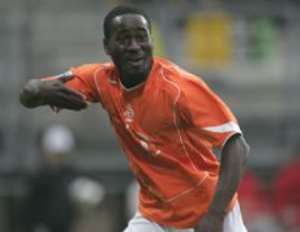 Ghana born striker, Quincy Owusu Abeyie has applied to FIFA to switch his Dutch allegiance to enable him play for Ghana.
The 20-year-old, whose parents hail from Ghana, is curently awaiting FIFA's response.
Football's world governing body has confirmed that the Russia-based striker has formally written for a change of allegiance.
"Fifa has received a request from the player Quincy Owusu Abeyie for a change of association to Ghana," Fifa spokesman John Schumacher told BBC Sport.
"I can confirm that his application is currently pending."
Owusu-Abeyie had a superb showing for Holland at the Fifa World Youth Championship in 2005.
But he failed to hold down a regular position at English side Arsenal and joined Spartak Moscow last year.
Owusu-Abeyie once scored six goals for Arsenal's under-17 side in a 7-1 victory against Wolverhampton Wanderers.
A change in Fifa statutes three years ago allows players who had represented one country at junior level to play for another country if they are entitled to dual nationality and aged under 21.