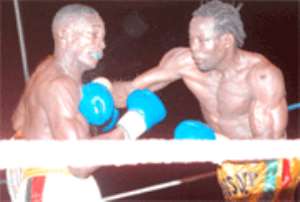 Ghana's Charles 'The Crusader' Adamu created the opportunity for a Commonwealth super middleweight title when he recorded a unanimous decision over Nigerian Michael Gbenga after a tough 12-round battle in the main bout on the Golden Jubilee Boxing Bonanza at the Azumah Nelson Complex last Friday.
Adamu's victory was spurred by several head shots at Gbenga who also proved a tough customer in the fifth, seventh and tenth rounds.
The fight was scored 120-109, 120-109, 117-113 in Adamu's favour.
Albert Mensah of the Will Power Gym shocked all fans at the arena after snatching the lightweight title from Ben Congo Soldier Ankrah after staging a class act. Mensah, who had a reach advantage, landed heavy jabs with his left with speed and aggression.
Ankrah, the favourite, fought back in rounds three and four but this was not enough to prevent the 18-year-old Mensah from maintaining his aggressiveness.
The score cards of Judges J.B. Owusu Ansah, Fred Ghartey and Clement Ashong read 114-117, 114-117 and 112-18 in Mensah's favour.
WBA Pan-African super featherweight champion, Maxwell Awuku, gave proof of his pedigree when he defeated Aminu Turkson through a fifth round technical knockout in an eight-round contest.
Another boxer who impressed boxing fans last Friday was Mohammed Bameyi of the Black Panther Gym in a light heavyweight contest against Brimah 'Bukom Banku Kamoko.
Even though he lost by a unanimous decision, Bameyi built his confidence round by round and managed to stun Kamoko with some heavy jabs. Kamoko was, however, faster and more focused and finally won 80-74, 80-72 and 80-72.
In a welterweight contest, Attoh Quarshie Gym's Philip 'Sweat Pea' Kotey defeated Paul Achaab of Fit Square Gym. Achaab threw many punches which Kotey blocked but managed to penetrate Kotey's guard on a few occasions.
In other bouts, Akotoku Academy's Joseph 'King Kong' Agbeko defeated Baba Nzor of Indigo Gym through a fourth round technical knockout in a catchweight contest, while Sumaila Badu of Fit Square Gym defeated Mohammed Ali in a super featherweight contest through a third round technical knockout.
The event, which marked Ghana's 50th Independence Anniversary, was also attended by dignitaries including World Boxing Association (WBA) President for Africa, Mr Stanley Christodoulou, and Deputy Education Science and Sports Minister, Mr O.B. Amoah.
It was put together by Metro TV, Ambition Promotions, Commonwealth Sports Awards and Obric Sala Promotions and sponsored by Men Only Deodorant, Azar Paints, Onetouch and Ultimate Phones.
Story: Nathaniel Attoh