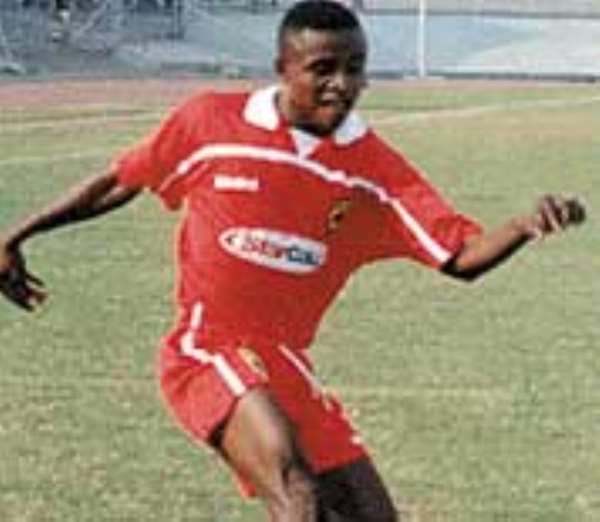 The failure to reach a conclusion on the status of former Asante Kotoko star, Lawrence Adjei, has left the player in limbo. Adjei is currently brooding over whether he would ever be eligible to play football after seeing his application to the Player Status Committee of the GFA hang in there indefinitely.
Adjei came back to Ghana under controversial circumstances, although he still had time to spend with Russian club side, Spartak Moscow, the club to which he was transfered from Kotoko. He maintained that he was handed a raw deal in the transfer and consequently applied for a floating status, but that request or an altenative decision is yet to be delivered.
A source close to Adjei said the player is frustrated at the long wait on the sidelines, and continues to wonder at what might be the possible cause of the delay in the delivery of 'justice'.
"He is alarmed at the manner the case is being handled, and fears the delay could persist for some months more," the source said.
"His long absence from the field is a big bother to him and he feels his career is being threatened at the moment," he said.
The circumstances surrounding the player's return to Ghana did not enable him acquire the appropriate Internationa Transfer Certificate (ITC) and the player is again seeking issuance of a provisional one from the FA to enable him play.
The issuance of the provisional ITC to Adjei may well be a thorny issue due to the controversial manner he walked out of his contract with Spartak Moscow. Mr Antwi Gyamfi, Chairman of the Player Status Committee, told the Graphic Sports that his outfit had written to the Russian FA on the subject, seeking to know Adjei's fate as it pertains in the plans of Spartak, and also to learn from their perspective the whole story regarding his circumstances that facilitated the player's controversial abrogation of the contract.
Two months have elapsed since that correspondence but the Russian FA has failed to reply to even a follow-up reminder. Strict compliance with the law should have earned the player a provisional ITC following the Russians' failure to respond to the correspondence after just a month.
His six months stay in the country without playing for any club should also have earned him floating status (depending on several factors, though), and the player qualifies under both instances. Meanwhile, at the time of going to press yesterday, the Player Status Committee announced that it would be meeting the player on Thursday.