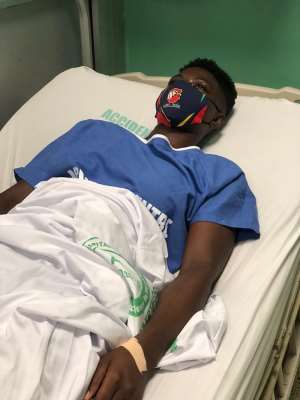 Ghana Rugby female player, Dorothy Owusu Ansah has had a successful anterior cruciate ligament (ACL) surgery at the Korle Bu Teaching in Accra last Thursday.
The surgery which was done by highly-revered surgeon Dr. Oklu went smoothly.
Miss Owusu Ansah expressed her profound gratitude to the President and Board Chairman of the Ghana Rugby Football Union, Mr. Herbert Mensah, other Board Members, sponsors, and also her colleague players for their overwhelming support.
Speaking just after the surgery, the President and Board Chairman of the Ghana Rugby Football Union, Mr Herbert Mensah expressed his delight in seeing Dorothy go through the ACL surgery successfully.
He said, " I think Ghana Rugby is proud of our record of looking after our players. We have had a series of injuries as we have in other sports but we have been able to face them off and today I am happy to see Dorothy, a prospective national player for the Ghana Rugby team, have a successful ACL operation in Ghana performed by Dr Oklu and we need to thank Akai House for all their Assistance."

" The operation was successful according to the doctor and I am happy and proud that Mr Ako Wilson, a Board member and Rafatu lnusah along side other players from Ghana Rugby, Paulina, Francis, were all on hand to offer their support rose to the occasion."
Mr. Mensah added that, "Sports is one thing , but it evolves over time, the business model you put forward and the business models you use have to be taken into account, the present and the future, your players are your present and your future"
"Being a minority sport, as they all say in Ghana ,where every sport is ranked after football, everybody is struggling for a piece of the national cake and how it should be shared but certainly what we have been able to achieve in Ghana Rugby is in line with our business model"
"Getting into Rugby Programs, the expansion of said programs, the introduction of women into Rugby, the women's league which only started in the last couple of years and the ranking of the Ghana Rugby women's team in the top 10 within Africa and winning one of the cups in Tunisia is a huge testament to those who have pushed behind us to make sure it happened but, we have to look after the players as well and an ACL injury is a very serious one which means a player might be out for 7 to 12 months depending on how the physio goes"

"Once again we wish Dorothy all the best in this recovery and all those involved in supporting her. It is always important that when these things happen we don't forget about our sponsors, the people who have helped us , especially through this very difficult time, Sunda International without them, Ghana Rugby would have struggled all these years and we owe them a lot"
" We hope that we can renew our relationship, post covid, with lnterplast, Gino Products, Societe Generale who sponsor Africa Rugby and have a better relationship with them, we really hope that they come forward as well as Pan African who have been our major kit sponsors over the years"
"Everybody is struggling to recover from covid-19 but we have to continue with our plans , still being very conservative with what we do so that we can emerge from this period stronger and better.."






About Ghana Rugby:
Ghana Rugby is the official full member of both World Rugby (2017) and Rugby Africa in Ghana-West Africa and is responsible for the management and development of the Game Rugby Union in the country. The Union is governed by a Constitution and administers five KPAs (Key Performance Areas) namely:
(1) Youth Development & Growth through the World Rugby "Get Into Rugby" Programme,
(2) Women in Ghana Rugby,
(3) Training & Education,
(4) Domestic Competitions and
(5) International Performance.
Website: http://ghanarugby.org/
Facebook Group: https://www.facebook.com/groups/Rugbygh/
Facebook Page: https://www.facebook.com/eagletstoeagles
Twitter: @ghana_rugby
Ghana Rugby Insights: http://ghanarugby.org/about-us/ghana-rugby-insights/
Support Ghana Rugby http://ghanarugby.org/take-part/support-ghana-rugby/
Email: [email protected]