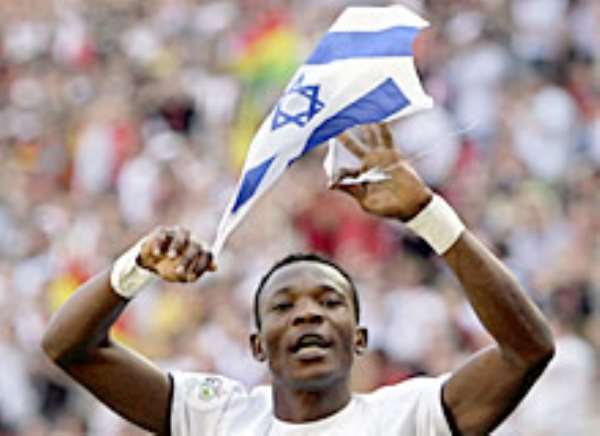 West Ham announced Tuesday the signing of Ghana's World Cup right back John Pantsil from Israeli side Hapoel Tel Aviv for a fee of 1 million pounds (1.45 million euros).
Completion of the transfer is now dependent on the player being granted a work permit, which is not expected to be a problem.The 25-year-old signed a four-year contract with the English Premiership side after turning down offers from French clubs Marseille and Rennes, and Anderlecht of Belgium.
The decision was not merely a matter of the wage packet, Pantsil's agent, Jacky Mouyal, said."He is not going to the club offering the most money. West Ham is his first choice. He likes the team and they like him," Mouyal explained
"The player is very happy. The team are very good, the coach is very good. He is very happy in the city and he saw the stadium yesterday."
Pantsil caught the eye of manager Alan Pardew during the World Cup, where he played in all four of Ghana's games but provoked uproar in Egypt when he brandished an Israeli flag after Ghana beat the Czech Republic 2-0 in their first round match, producing it after both goals.
Pantsil's action sparked a barrage of insults and furious reactions in newspapers in Egypt leading to the Ghana government formally apologising to the Arab world.
"We have called in the envoys (diplomats) of the Arab world and explained that Painstil's action was not official," foreign affairs minister Nana Akufo-Addo said.
"It was an an act by an individual who was ignorant of the implications of what he did," the minister told AFP at the time.Pardew has been looking for a right-back after Argentinian Lionel Scaloni's loan spell from Spain's Deportivo la Coruna came to an end.