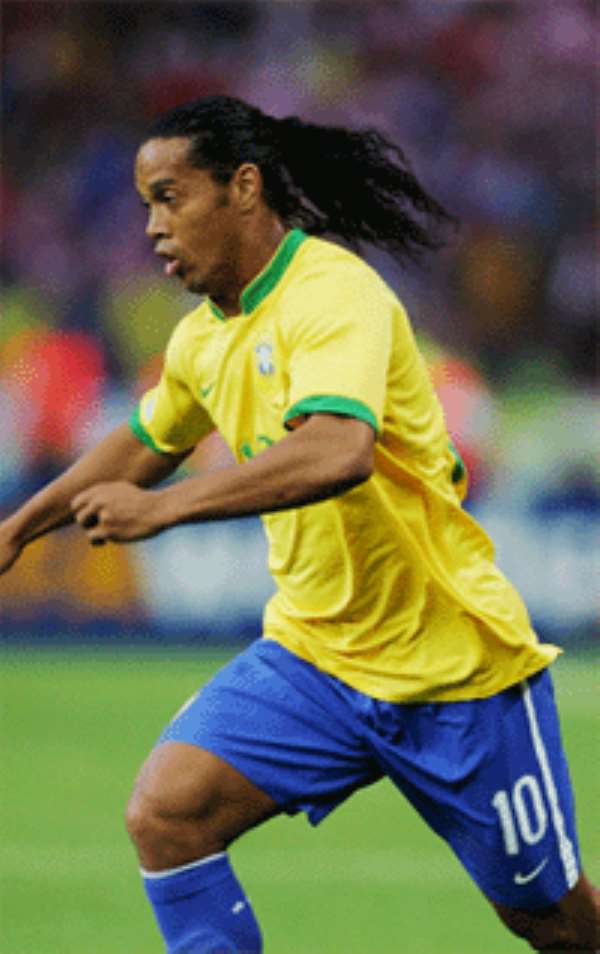 Ronaldinho —Brazil
Although Brazil has two wins, many are still looking for the trademark "samba" in the team's game.
Yet to stage the kind of show fans expect from the defending world champions, the Brazilians look to capture Group F and get their sluggish attack on track on Thursday when they meet Japan at Dortmund, Germany.
Brazil has beaten Croatia 1-0 and Australia 2-0 to clinch a spot in the round of 16.
It wraps up the group title with at least a tie, although it could still win Group F with a loss if Australia does not beat Croatia today.
However, the media and fans back home have been unimpressed with an attack that has managed only three goals.
The "magic quartet" of Kaka, Ronaldo, Ronaldinho and Adriano have produced few great moments, earning the derisive label of the "square quartet" in one Brazilian newspaper.
"In the World Cup, to put on a show is to win," said coach Carlos Alberto Parreira, pointing to the fact that his team has yet to concede a goal.
The players seem to agree. Defender Roberto Carlos insists the team is on the right track to win a sixth World Cup, and Kaka felt the team showed improvement in the second match.
"We're going to improve with every game. The World Cup is a marathon, not a sprint," Ronaldinho said. "Brazil is capable of playing nice soccer and the team is getting stronger with every game."
Ronaldinho and Ronaldo, who have combined to win five FIFA Player of the Year awards, have yet to score.
With 12 career World Cup goals, Ronaldo remains one shy of becoming Brazil's all-time leading scorer in the World Cup and three shy of becoming the tournament's all-time leading scorer.
The Real Madrid striker scored eight goals to help Brazil capture the 2002 crown. He finally made an impact in Sunday's match against Australia when he fed Adriano for the go-ahead goal in the 49th minute.
"There was a very big difference compared to the other match," Parreira said. "Little by little, he will get his rhythm back."
With little at stake, Parreira has indicated he might give his reserves some of the minutes. Ronaldo, Cafu, Emerson and Robinho all have yellow cards and another one against Japan would automatically suspend them for the round of 16.
"We want our team healthy," Parreira said. "We don't have the preoccupation of advancing (to the next round), we are already there."
Ronaldo has been replaced by Real Madrid teammate Robinho in each of the first two matches and Parreira will likely do the same Thursday.
Japan still has faint hopes of reaching the round of 16, but it will need to defeat Brazil for the first time to give itself a chance.
The Japanese are 0-5-2 against the Brazilians, although they produced a 2-2 draw in the most recent meeting in last year's FIFA Confederations Cup.
An unlikely victory is not enough for Japan, which also needs Croatia to either tie or beat Australia in their concurrent match at Stuttgart.
In addition, the Japanese would need to win the goal-differential tiebreaker -- they are at minus-2, Croatia is at minus-1 and Australia is even.
Japan is in this predicament after losing 3-1 to Australia and playing a scoreless tie with Croatia.
"We know what a difficult situation we have put ourselves in," Japan forward Atsushi Yanagisawa said.
Japan's coach is the legendary Zico, who was Brazil's leading scorer at the 1982 World Cup. Zico, who has indicated he will not coach Japan after the World Cup, is unhappy his team has managed only one goal in two matches.
"It's the same old thing," he said. "We work on this all the time but when the players get in the match they are not as relaxed as usual and can't put the ball in."
Japan's defence is anchored by Brazilian-born Alex, who obtained Japanese citizenship in 2001 and made his international debut the following year.