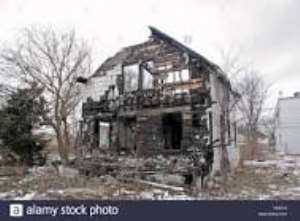 Report reaching this network indicates that one person has been shot dead in a fierce protracted land dispute between the people of Dorba and Kandiga, in the Kasena-Nankana municipality of the Upper East Region.
The two rival towns have been on each other's throat over a parcel of land which is currently in court.
Security sources told this reporter that, the Navrongo-Bolgatanga highway had witnessed rampant armed robberies of late, prompting the people of Kandiga-junction to seek police intervention.
The people of Kandiga then requested for a police post along the highway to help curb the growing menace.
A building renovated for this purpose by the people of Kandiga, sparked the renewed clashes as residents of Dorba are claiming ownership of the land in which the renovated building stands, leading to the death of one person
"We moved in to calm down nerves. We equally called in the military too. The situation was brought under control but just a few minutes ago, we got information that, one person has been shot dead in his house. The buildings are scatted, so they did that at the blind eye of the security. But we are on the ground." DSP Francis Agyare told Abugri Sumaila Haruna via phone.
More On This Developing Story Soon...