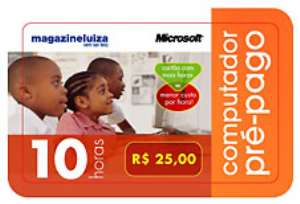 Microsoft Corp. (MSFT.O: Quote, Profile, Research), chip makers and PC firms aim to increase PC usage in the developing world with a new flexible payment program to lower the initial costs of buying a computer, the companies said on Sunday.
Microsoft, the world's largest software maker, said it is leading a group of technology companies in offering the first-ever "pay-as-you-go" computers in Brazil, India, Mexico, Russia and China over the next several months.
Using Microsoft's FlexGo software technology, a customer can buy a computer loaded with the Windows operating system then purchase prepaid cards or pay a monthly subscription fee at a cost similar to using a computer at a local Internet cafe, Microsoft said.
When the usage time ticks down, a customer can go online or to a local retailer to buy more minutes.
In an effort to replicate the success of prepaid mobile phones in emerging markets, the PC industry aims to expand PC use in countries where consumers must cope with a lower income and limited access to credit.
"We're working with all these partners to expand the market to help bring PCs within reach for hundreds of millions of families within emerging markets," said Will Poole, senior vice president at Microsoft. "As the market expands, then we sell products and that's a good thing."
Microsoft's partners include Advanced Micro Devices Inc. (AMD.N: Quote, Profile, Research), Intel Corp. (INTC.O: Quote, Profile, Research), Lenovo (0992.HK: Quote, Profile, Research), Phoenix Technologies Ltd. (PTEC.O: Quote, Profile, Research) and Transmeta Corp. (TMTA.O: Quote, Profile, Research), but it aims to work with other hardware companies, telecommunication firms, banks and retailers in emerging markets.
The pay-as-you-go model lowers the initial costs of buying a PC by 50 percent or more and the consumer owns the PC after a set amount of minutes are purchased, the companies said.
Microsoft and its partners recently completed its first trial in Brazil and they plan to do a next round of trials in Brazil, China, Hungary, India, Mexico, Russia, Slovenia and Vietnam, according to Microsoft.