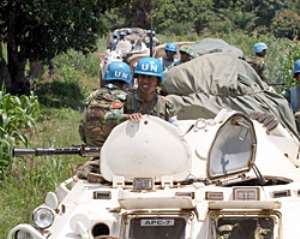 UN forces in Democratic Republic of Congo have launched an assault on an eastern militia in a bid to bolster security two months ahead of national elections.
Escorted by attack helicopters and armoured vehicles, around 1,000 Bangladeshi, Pakistani and South African UN peacekeepers along with 3,000 Congolese soldiers launched the operation on Saturday.
The attack aims at retaking the town of Tchei in Ituri district, where militia violence has killed tens of thousands since 1999.

Groups of young children ran out of thatched huts among banana and mango trees to wave and give the thumbs up as a convoy of armoured vehicles advanced towards the town through the lush green hills.

Brigadier General Mohammad Mahboob, commander of the UN forces in Ituri, said: "We are going to move towards Tchei where we presume there are about 2,000 militia. They have not allowed the government troops to move in for the last three months,"
"We're going to take control of Tchei ... We don't want any bloodshed. We'd prefer the militias surrender than be hurt by our bullets," he said, speaking to Reuters shortly after leading a prayer service for Bangladeshi troops.
Polls
Presidential and legislative elections are due in Democratic Republic of Congo on July 30 after repeated delays.
They will be the first multi-party polls in four decades in the vast central African country.

With just two months to go, the stretched UN force is trying to pacify parts of eastern Congo where gunmen still roam, even though the last war, which killed four million people and sparked a humanitarian crisis, officially ended in 2003.

The United Nations has nearly 17,000 soldiers in Congo, the world body's largest peacekeeping mission. But they are thinly stretched across a country roughly the size of Western Europe.
Violence in the mineral-rich east, where foreign and local rebels groups continue to plunder natural resources and attack civilians, have complicated preparations for the July polls.