US 'should shut secret jails'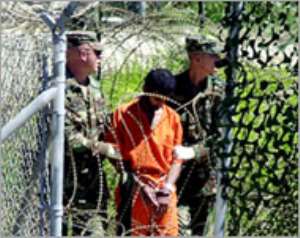 The United States should close its Guantanamo Bay detention facility in Cuba and its secret prisons across the world, the UN says.
The UN Committee against Torture said on Friday it was concerned that detainees in Guantanamo were being held for long periods with inadequate legal protection.
It also said that detaining people in secret prisons was a violation of the UN convention against torture.
"The state party should ensure that no one is detained in any secret detention facility under its de facto effective control," the panel said.
"It should investigate and disclose the existence of any such facilities and the authority under which they have been established and the manner in which detainees are treated."
Secret prisons
The 10-member independent panel also said the US should "eradicate" all forms of torture committed by personnel in Afghanistan and Iraq and investigate any such allegations.
"The state party should take immediate measures to eradicate all forms of torture and ill-treatment of detainees by its military or civilian personnel, in any territory under its jurisdiction," the report said.
Some techniques, it said, had resulted in the death of detainees during interrogation and vague US guidelines have led to "serious abuse of detainees".
It said that the US should make sure detainees are not returned to any state where they could face a "real risk" of being tortured.
About 460 people are still being held in Guantanamo Bay in Cuba.
The report comes as a US judge dismissed a lawsuit against George Tenet, the former head of the US Central Intelligence Agency, and other CIA employees.
The suit was brought by a German of Lebanese origin who said that he was tortured by agency employees, but the judge ruled that proceeding with Khalid el-Masri's case would damage US national security.
Committee against Torture: http://www.ohchr.org/english/bodies/cat/