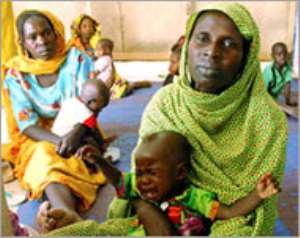 Six people have been killed after protesters in Darfur opposed to the recent peace deal between rebels and the Sudanese government clashed with police.
The deadliest clashes occurred in and around camps for internally displaced persons in South Darfur state, where three civilians reportedly died in an exchange of gunfire.
The clashes erupted on on Saturday after protesters beat to death a military intelligence agent inside the Kass camp, Sudan's Al Rai al-Aam daily reported.
Police acting on a tip dispatched a task force to rescue the man, but the team ran into a group of protesters moving towards a nearby Africa Union (AU) camp and a gun battle ensued, the paper added.
An official statement said that an old man and a child were killed in similar violence in the Abu Shouk camp on the outskirts of al-Fashir, the capital of North Darfur state.
"Just when North Darfur state looks forward to the peace that was signed in Abuja with joy and happiness, the enemies of peace are aspiring to stain the peace that has become a reality," the statement said.
Peace deal
The May 5 peace deal was signed in Abuja, Nigeria by the Khartoum government and the main faction of the larger of the two main rebel movements, the Sudanese Liberation Movement.

But the Justice and Equality Movement refused as did the SLM faction headed by Abdelwahid Mohammed el-Nur.
On Sunday, el-Nur rebuffed the latest proposals from African Union (AU) mediators for him to join a peace deal despite intense pressure by diplomats desperate to gain wider support for the accord.
Conditions
He says he will sign the peace deal, but only if first the government accepts some of his key demands in an annex accord.

The demands include greater compensation from Khartoum for Darfur war victims and greater SLA involvement in monitoring the disarmament of the Janjaweed and the return home of refugees.
Ibrahim Madibo, el-Nur close adviser, said on Sunday: "At this stage we are not signing because we get nothing, but we are trying to push the government to make some concessions. ... If the government accepts and signs, then Abdel Wahed will sign".
The conflict in Darfur erupted in February 2003 when rebels from minority tribes rose up against the central government in Khartoum, prompting a fierce crackdown by troops and a proxy militia called the Janjaweed.

The combined effect of war and famine has left up to 300,000 people dead and displaced more than two million.