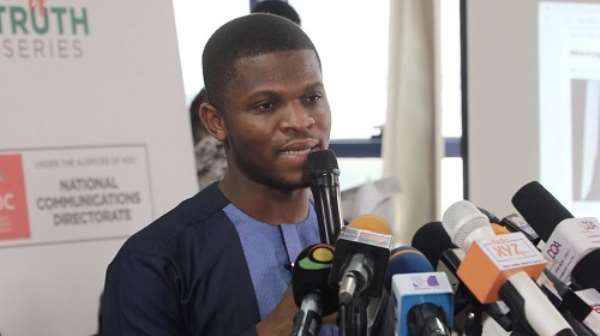 Few months ago in their usual theatrical display of what they term "Moment of Truth Series", the NDC, led by their National Communication Officer, Sammy Gyamfi, preached to the whole world that the much talked about 1 Village 1 Dam initiative (1V1D) being undertaken by the Nana Addo led government was/is a total hoax and an act of dishonest leadership.
The NDC strongly argued, though without facts, that, no where in the 5 northern regions (Upper West, Upper East, Savanna, North East and Northern region) has the Nana Addo led government constructed any dam. To the NDC as they urged Ghanaians to believe, the 1V1D project was a nonexisting physical project; one forecasted only in the 2016 NPP manifesto to garner votes without intention to deliver in reality. Basically, the 1V1D was likened to the NDC's Unholy Green Book.
Fast forward today, that same NDC led by same Sammy Gyamfi with same media houses have paraded roundabout in Nakpachee, a village in the Yendi municipality where one of the yet to be completed dams is unfalteringly ongoing. In this series, they sought to once again project to the world that the Nakpachee dam is empty; and then probably sought to also argue again in defense of their earlier claim that the dams are nonexistent.
Indeed, Sammy Gyamfi is truthful in his portrayal that the dam is empty. Yes, that dam, which is one of the yet to be completed dams is indeed empty. Its emptiness is however with cogent reasons. The basis of this stems from the fact that it is one of the ongoing dams yet to be completed.
Pathetically, he has lost the intellectual battle as usual. That same Sammy Gyamfi and his NDC who told Ghanaians that the Nana Addo led government wasn't constructing any dam in the 5 northern regions has had one of the dams to encamp about and address the nation in what they deem their moment of truth series.
To petition him to hold such a "moment of truth series" in the completed dams will not only be a total waste of resources but an exercise he, Sammy Gyamfi and the NDC will never honor. Such a petition could be as equal to asking their flag bearer, John Dramani Mahama to speak on the Airbus scandal. It's an exercise in futility.
If Nana Addo isn't constructing any dam as claimed, who constructed or is constructing the Nakpachee dam? and in which region is the Yendi Municipality where the Nakpachee dam is located?
Sammy Gyamfi is intelligent and smart. He is undoubtedly an embodiment of great public speaking skills. Unfortunately, he lacks the ability to utilize his intelligence and great public speaking skills to win the minds and hearts of other citizens who are conscious of facts, truth and honesty. Simply put, Sammy Gyamfi is intelligently dishonest, nonfactual and misleading in all ways.
Their moment of truth series which is intended, like in a bullfight where the matador kills the bull, misfired since its inception. However dramatic they have learnt to project their agenda, the fact checking fundamentals have rendered all useless and hopeless, leaving them to be exposed by their own deception.
Meanwhile, President Nana Addo's intention to even build a dam for the people of Nakpachee in the Yendi municipality of the Northern region is an effort worth applauds. It is an indication that President Nana Addo envisions beyond party politics, projecting honest national development and the provision of better agricultural and general welfare projects to all Ghanaians, regardless location, ethnicity and political party affiliation.
Reindolf Amankwa
Member, CTI-Middle Belt