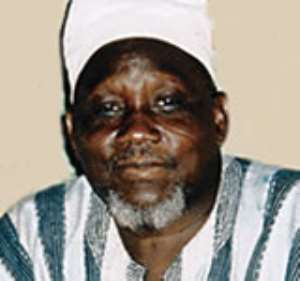 The President, Mr John Agyekum Kufuor, has reaffirmed the government's commitment to ensure that the murderers of the late Overlord of Dagbon, Ya-Na Yakubu Andani II, and 40 of his retinue are brought to book.
He also promised the late Ya-Na's Gbang-Lana (Regent), Kamkanpuya-Na Abdulai Andani, of the government's support to ensure that the road map to peace in Dagbon was effectively implemented to promote lasting peace in the area.
The President made it clear that the government would not rest on its laurels until it ensured that justice prevailed in Dagbon.
Speaking during a courtesy call on the late Ya-Na's Regent in Yendi last Saturday, President Kufuor said, "Truth cannot be suppressed, but like a cork, you might press it hard into water but it will still come out."
"The unfortunate murder of the late King was personally a great loss to me, my government and the nation at large which cannot be calculated," the President said.
President Kufuor donated ¢10 million to the Kamkanpuya-Na and his retinue.
The President congratulated the Kamkanpuya-Na on his installation as a Regent and was hopeful that he would help restore normalcy and peace in Dagbon.
"I pray that nothing disturbs the implementation of the road map to peace so that this great corner of the country will assume its rightful position in the development efforts of the country," he stated.
He thanked the Regent and his elders for the warm reception accorded him and his entourage, adding that it was a replica of the reception he received from the late Ya-Na.
The outgoing Northern Regional Minister, Alhaji Abubakar Saddique Boniface, expressed optimism that Dagbon was now experiencing an appreciable level of peace and urged the people of the area to help sustain it.
The Kamkanpuya-Na, on his part, pledged his preparedness to promote peace, harmony and unity in the area, stressing that Dagbon would "never slip back into the chaos of the recent past".
He commended the government, the Committee of Eminent Chiefs and the security agencies for the mature manner in which they had so far handled the peace process in Dagbon.
"That is why it is of critical importance that those responsible for the murder of my late father the Ya-Na and 40 members of his retinue must be brought to justice," the Kamkanpuya-Na stressed.
He noted that when justice prevailed in the area, it would send a clear signal to the present and future generations that the law was supreme and that nobody was above the law.