Speech Delivered By President Kufuor Today At The May Day Parade In Accra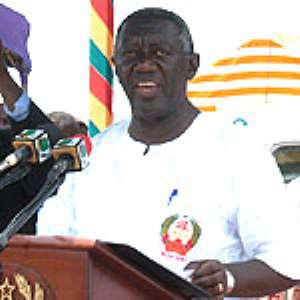 Vice President Aliu Mahama,
Members of the Council of State,
Hon Minister's of State,
Hon Members of Parliament,
Members of the Diplomatic Corps,
Secretary-General of the Ghana Trades Union Congress. Representatives of the Ghana Employers Association, The Leadership of Various Organized Labour Groups, Members of the Ghana Trades Union Congress, Distinguished Ladies and Gentlemen,

Let me begin by wishing all of us gathered here a happy celebration of May Day in solidarity with organized labour, and in acknowledgement of workers' contribution to the overall development of our dear nation.
This year's celebration is particularly important coming as it does on the eve of the country's fiftieth anniversary of independence. Workers must feel justifiably proud to have participated actively in the evolution of this dear nation. I am sure that when the history of our national development is written the role of our gallant workers will be accorded the recognition that it deserves.
The Secretary-General, Mr. Adu Amankwah, has spoken at length and given all of us food for thought. I thank him for the reasonably warm sentiments he has expressed about government. I am particularly happy that generally organized labour appreciates the direction of government's policy, and has pledged its support in the drive forwards accelerated national development. This is reassuring. Government has come this far always counting on the continued support and goodwill of the w0rkers of Ghana. I am confident that together we would achieve our nation's medium term goals perhaps earlier than expected.
Your theme for this year's anniversary celebrations, "Organized Labour in an Era of Increasing Challenges of Globalisation" could not have been better chosen. Currently, the globe is undergoing phenomenal changes which are posing serious challenges to all nations, including even the most highly advanced and powerful nations like the United States of America and Japan.
Science and Technology continue to break down barriers hitherto considered impregnable. The supersonic speed of movement across the world which is affecting trade, business and governance is incredible. Increasingly, international organizations like the UN and the Commonwealth, and multi-lateral organizations like the IMF and the. World Bank, and even NGOs like Amnesty International and the Red Cross are assuming important roles in governance within nations. More often than not, their decisions and activities impact greatly the lives of the ordinary people in these nations.
Meanwhile, problems like terrorism, issues concerning refugees and displaced persons illicit trade in arms and ammunition, drug-pushing, money laundering, human trafficking and a host of others, which were until recently perceived at local, are now assuming global proportions.
Mr Chairman, fellow workers of Ghana, the truth is that, no nation can escape the effects of globalisation, neither can any single country, no matter how well-endowed deal with them alone, except in partnership with the global community.
Indeed, the global village is already overtaking the plans and policies of the individual nation states, and has become a reality. This is why nations around the world are submitting to regionalism as building blocks of globalisation and various bi-lateral and multi-lateral protocols are being entered into, in every sector of governance.
Our nation Ghana has always remained faithful to its international obligations both regional and globally. This is not because of a lack of appreciation of the many problems coming in the wake of the globalisation process. Rather, it is because of our understanding that until and unless we adopt a policy of pragmatism towards the irreversible trends of globalisation, out eventual losses will be greater than our initial hardship from the process.
Indeed, the challenges of globalisation which, in any case, are complex and dicey all over the world, are more daunting for us, the developing countries, than for the other categories of nations. Not only must we continue to fight illiteracy, poverty, hunger and diseases within our territories, but also we must reform and ensure growth in our fragile economies in order to be mainstreamed into the global market. Which ever way one looks at it, this is an unequal competition, but from which there is no escape.
To confront this dilemma, governments of developing countries are forced by the dictates of pragmatism to adopt tough and difficult measures which tend to engender suspicion, ill will and some times confrontation with organized labour and even, the citizens in general.
Fortunately, Mr Chairman, Ghana has been spared any unduly destructive confrontations. Yes, we have had our fair share of problems, leading to a host of strike actions. However, be resorting initially to the Tripartite Committee and now to the Labour Commission; we are managing to resolve industrial issues in order to protect the gains which we have all worked hard to achieve.
On this special day set aside for workers, I deem it appropriate to acknowledge and also think the leadership and indeed the entire workforce of the nation, for their general understanding of our situation and their preparedness to compromise for their perceived good of our nation.
With the tacit support of organized labour, ladies and gentlemen, the nation has succeeded In lowenng inflation from over 40% to 9.99 %,(which is a single digit) In five years, Unfortunately, during that same period, all the gains being made have come under threat of radical dislocation by the wild and rampant increases in crude oil prices. That we have not buck"led under these extreme market conditions should be indicative of the innate strength of Ghana's socio-economy.
In this regard, credit should also go to the farmers of the country whose produce of staple foods has performed so well, especially over the past three years, as to stabilize the consumer price index. Also, on the cocoa front, the dramatic increase in production has resulted in increasing substantially export earnings from cocoa.
Mr. Chairman, fellow workers, there is no doubt that Ghana has currently attained a plateau of economic and financial stability from which it must launch itself into accelerated growth. The three priorities of government which are: Human Resource Development, Private Sector Development and Continued Good Governance must be pursued in consonance, to attract the critical investment pull to gain the needed acceleration. Of course, the motivation requisite for attaining this consonance translates into improving emoluments and working conditions for the work force of the country.
Government is earnestly fashioning out the ways and means of securing this, but even as government is trying to do this, it behoves on the work force to show such measure of discipline and forbearance so as not to drive away the investments that the economy must have.
Ladies and Gentlemen, the immediate vision of government, which is informed by the history of other nations that have made it in recent times, is to become the financial, commercial and production platform for investors, with access to the domestic, regional and global markets. Realizing this vision will entail increases in employment opportunities and the Gross Domestic Product. This is the way Ghana will attain the middle income status.
Infrastructural support for this multi-sectoral platform or hub is being worked at feverishly, and this is where the big push upfront is needed, in terms of aid, micro, small and medium enterprises credit, long-term loans and technical services for the roads, ICT, energy, ports and modern aviation services.
Partnerships are also an avenue to exploit to gain this big push. This is in line with the objects of the New Partnership for Africa's Development (NEPAD), which includes energ¥ pools, trans-national transport systems, ICT connectivity and indeed creation of Regional markets.
Organized labour and the entire population must share the vision with government and support it.
At this stage, I should let you know of a number of projects whose realization will contribute substantially to the attainment of the platform of production status that we envision for Ghana.
I should state that they are all on the verge of realization within the immediate future'. They are the following:
1. The Millennium Challenge Account of the USA for modernized agriculture.
2. The Integrated Aluminium Industry. This programme comes with the rehabilitation of the railway system, including the Western and Eastern lines.
3. The Off-shore Container Shipping hub to service much of the continent and beyond.
4. The completion of the West Africa Gas Pipeline to boost and diversify our energy supply.
5. The Internet backbone connectivity for which the Chinese government has given a concessionary loan of $30 million to start the first phase.
6. Water transportation using a Canadian technology to remove stumps in the Volta Lake to facilitate the development of cheap transportation on the Volta Lake for bulk haulage of produce.
Mr. Chairman, Fellow Workers, I am sure you all know that our country is a toast internationally for being a haven of peace and stability in West Africa. This is earning the nation goodwill in many respects, including attracting investments. I will appeal to Organized Labour and the entire society to resolve to deepen these credentials to enable us maximize our investment pull.
With immediate effect, government is tasking the Ministry of Finance and the Bank of Ghana to work with some other advisors on our salaries and wages and pension scheme which the Bediako Committee has submitted. This should aim at a comprehensive pay structure which can be improved exponentially in line with the improving economy, and which must at all times be affordable to the economy. Our hope is to be able to launch within the next few month, this new and comprehensive scheme that will take account of all levels of the nation's workforce.
Corporate Ghana has, as stakeholders, government, employers, labour and civil society at large. To resolve any misunderstanding that may have cropped up
among these stakeholders, it has set up the Labour Commission. Let us all respect and avail ourselves of its services.
I am confident, that with goodwill on all sides and playing by the ground rules of corporate Ghana, our nation shall succeed.
Mr. Chairman, distinguished ladies and gentlemen, fellow workers, let me once again wish you all a very happy May Day celebration.
Thank you and may God bless us all.