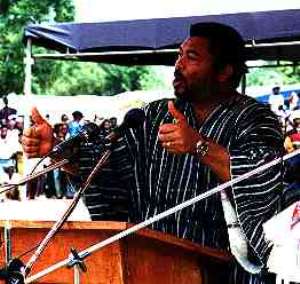 The 2004 flagbearer of the Convention Peoples Party (CPP), Mr. Aggudey has accused the former president and the National Democratic Congress (NDC) for being the cause of the decadence of Ghanaian politics.He said NDC is the first political party to induce the electorate with money, cloths, salt and many other gifts.
This according to him started in 1992 leading to the party's victory in 1996. "They thought it could give them a chance but for God being the master of choosing leaders, he chose President J. A. Kufuor and NPP for two times and this time I believe - that it is time for the CPP. Mr. Aggudey disclosed this to the Heritage in an interview in Tamale after he visited Yendi to witness the installment of the new regent of the Andani Royal family.
Mr. Aggudey said "since the CPP is bracing itself for the highest position in the country, it was politically prudent for it to unite and develop good strategies that would be acceptable to the good people of Ghana." Additionally, Mr. Aggudey expressed concerns about the wanton use of the media by those who have access to them to malign people they perceive to be their enemies or opponents.
He described the situation as unfortunate because as she put it, "everybody has a role to play in the society." He noted that these acts by some politicians and media practitioners have compelled some politicians to shun some of the media houses. Continuing, Mr. Aggudey noted that CPP is the only party that respects human dignity and assured Ghanaians of transparent, fair and good governance and democracy. He advised the party supporters to remain loyal, patriotic and supportive of the party to enable it to win the 2008 general election saying, "the CPP will win the 2008 general election in the country."