Dutch Government Supports 15 Ghanaian Entrepreneurs With EUR50,000
Through 'Orange Corners Ghana Initiative'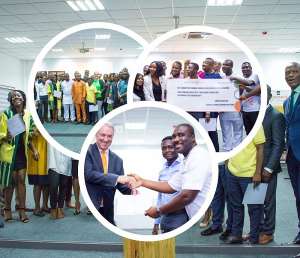 On Thursday 20 February, Orange Corners Ghana celebrated the graduation of the first cohort of its six-month acceleration programme for Ghanaian entrepreneurs in Accra.
The programme provided 15 talented innovators with expert training, coaching and masterclasses as well as access to facilities, networks and finance to grow their companies.
The companies in the first cohort of the programme are: Achiever Foods, Asili Coffee Purveyors, BuildForYou (BFU) Company, Eazywaste Ghana, Factor Green Ghana, Health Direct Global, Hill Bill Company, Kawa Moka, NASTECH Ghana, SanteKay, SKUUNI, TBG Foods, Vonvic, WASHKING and Women Youth Bee Value Chain. Next to their graduation, the networking cocktail also allowed for the presentation of the second cohort for the programme in the form of an exhibition and for an update by the Dutch Ambassador on the developments of the global Orange Corners Innovation Fund (OCIF).
The programme supports 30 entrepreneurs annually between 2019 and 2021. After graduating the programme, entrepreneurs can apply for a low-interest growth loan up to EUR50,000.00 from the Orange Corners Innovation Fund, managed by Fidelity Bank. After this first successful cohort, the second cohort will start on February 26th. After these two Accra cohorts, applications for support in Ho, Kumasi, Takoradi and Tamale will open soon to give other young talented Ghanaians outside Accra access to the Orange Corners support.
Orange Corners Ghana is an initiative of the Netherlands executed by MDF West Africa and in partnership with Fidelity Bank, Emergent Payments, Friesland Campina, Vivo Energy, Meridian Port Services (MPS), PricewaterhouseCoopers (PwC) and Allianz. Orange Corners spaces currently exist in 12 countries across Africa and the Middle East and support young entrepreneurs in building sustainable and scalable business models for their innovative ideas.
Ambassador of The Netherlands to Ghana, Ron Strikker: "Entrepreneurship is key to Ghana's future and we initiated Orange Corners Ghana to create jobs for the growing labour force and to stimulate innovation. The 15 supported businesses work in areas such as agriculture, creative industries, health, education and technology. All contribute directly to the economic empowerment of Ghana and our common Sustainable Development Goals. By working together with the private and public sector, Orange Corners combines forces to contribute towards a vibrant entrepreneurship climate in Ghana".
Managing Director of MDF West Africa, Richard Yeboah: "With the Orange Corners acceleration programme we take existing businesses a step further. During the 6 months we focus on governance, growth strategies and financial management and we have seen great improvements in the companies in terms of management and job creation. We also want to thank the private sector partners for their involvement and opening up their networks and even buying products and services from the companies. "
The second cohort of Orange Corners Ghana will start next week at the Orange Corners workspace at the Ghana Innovation Hub in Accra. For more information please visit www.orangecorners.com/ghana or stop by the Ghana Innovation Hub.