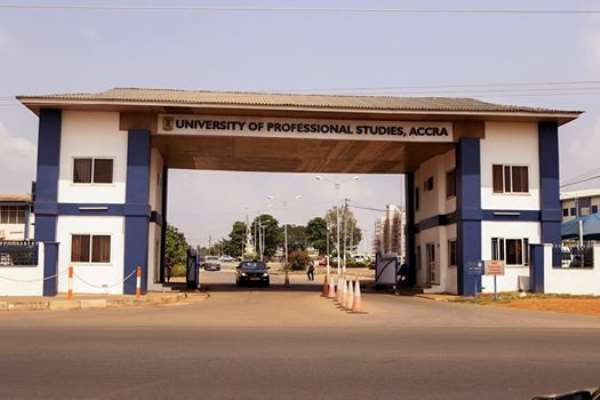 Students of the University of Professional Studies, Accra (UPSA) are calling on the government and all relevant bodies to intervene over the skyrocketing academic fees.
The situation, they say, is making life unbearable on campus as students continue to face the scotch of paying high fees.
According to some students who spoke to MondernGhana News on condition of anonymity, they simply do not have the peace of mind anymore to go about their studies because of the panic on where to find the money to pay their schools.
They added that anytime school resumes, the adrenaline of students goes high as each student is made to cough up Gh¢4000 in each academic year.
The University, formerly a private school is now a public school that continues to offer tuition for business professional programs including undergraduate, diplomas, professional programs, post-graduate programs, and doctorate programs.
While most of the public universities in the country charge fees ranging from GH¢2,000 to GH¢3,000 per academic year, checks from interaction with aggrieved students at the university reveals that sometimes a student can be made to pay over GH¢4,000 due to accumulated debt from penalties on late payment.
One student [name placed on ice] who is leading the charge for the aggrieved students in an interview with Modernghana lamented how expensive the school fees are, compelling students to find other means to raise the money to enable them academically catch up with others whose parents afford to pay.
"I really find it difficult every semester to pay my fees because of how expensive the fees are. I resort to going around seeking funds and also borrowing from people which I still owe to date.
"Anytime the semester is coming to an end, I become frustrated and can't even concentrate on my studies towards the exams because my fees haven't been paid. I try my best to raise some money by working part-time but the money raised is nowhere close to the fees", she lamented.
She intimated that another problem students from poor homes face is the fact that penalties are charged for late payment of fees.
"Students who do not pay their fees on time have to pay a penalty of GH¢50 per additional week. What that means is that a month after the deadline, anyone who is not able to pay his fees will have to pay an additional GH¢200. The person is there struggling to pay his/her fees in the first place and you overburden him/her again with penalties which reasonably makes no sense and renders our education system a nightmare."
In addition to the frustration students face with regards to how expensive school fees are at UPSA, the students observe that sometimes their mates are forced to defer or remain in the house completely when they are unable to raise the required amount of money to pay their debts.
The students are therefore calling on the government to slash the expensive fees and abolish penalties associated with late payment.
"We want the government to hear this and we want them to also reduce our fees. It is a government school so they should also think about us. We are not rich students, some of us are from poor homes and we work for it so we can't come and pay GH¢4,000 a year whiles others are paying about GH¢2,000 a year in other public schools", the student lamented.