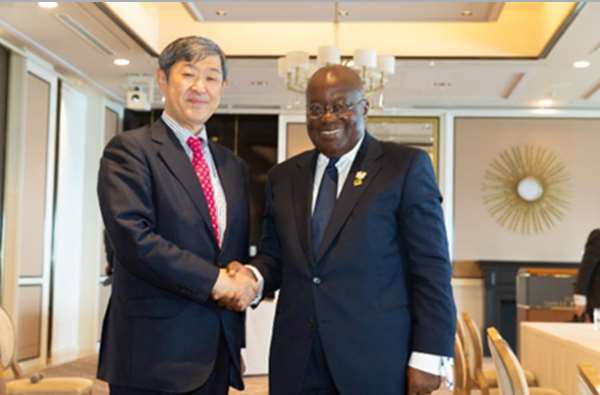 Introduction
This year's assessment of the president's performance was purely based on a balanced score card approach. This takes into account the resources available to you and how you were able to put them into productive ventures given other competing interests. We also considered other alternative approaches we thought could be applied in addressing similar issues.
My information is that, the government has since 7th January 2017 received over 80 billion Ghana Cedes in the form or loans alone, minus other cash inflows; if so, then it is only fair that this method of grading be applied in other to critically analyze the output therein and come out with a fair assessment.
As usual, ten most important areas have been selected for this exercise.
1.The Economy:
The government of the NPP has always prided itself with prudent Macro Economic management prowess. By this, it includes but not limited to the following: stable exchange rate for the business environment, low interest rate from the central banks trickling down to businesses, positive growth in our Gross Domestic Products (GDP) and others.
Considering the few mentioned above, then it is fair to say that the government has failed to live up to not only their promises but also the expectations of Ghanaians in view of the following reasons:
1. Our Cedi has depreciated from GHC4.8 to the almost GHC6.00 as predicted in last year's review even though that prediction was directly linked to the promise of a positive major infrastructural development by the Finance Minister in 2019. However, that promise was not realized yet our Cedi has depreciated hugely largely because of poor economic management. As Dr. Bawumia said: you can play games and lie with the performance of your economy but the exchange rate will always expose you. Well, I don't know whether this statement is entirely true, but if it is, then indeed this government has been exposed big time!!!
2. Again Interest rate is still in the late twenties to early thirties percentage-wise and this is also not a positive sign enough after three years in office. I would have thought that after the so-called FINANCIAL SECTOR CLEAN UP, the interest rate would be brought down a little but it is not the case. You see, the Banking Sector has contributed to the collapse of more businesses than it has helped to establish due to the huge interest. Huge interest rate kills small businesses instead of helping them to grow.
We expected the Bank of Ghana to address this issue after the so-called clean up through prudent policies but has not been the case.
3. Again our percentage increase in GDP growth as compared to 2018 dropped considerably in 2019 and this is a major failing no matter the explanation or excuses.
4. Effort to reduce inflation by this government also saw a drop in the year 2019 from 2017 -2018 records although not much infrastructural projects were seen. And this is also not a positive sign as we head towards election year.
5. In general the cost of doing business in this country throughout the first three years of Nana's administration has been very high thereby killing a lot of businesses especially the starters. In view of the foregoing we will give them 45% and implore them to engage not only academic economists but people with industrial expertise so that there is a direct link between gains made on paper and the living standards of the people
2. Roads Infrastructure
Massive Infrastructure was promised in the previous budget but as mentioned above, much has not been done and this cannot he denied by anyone associated with this government. As a developing country, we have many infrastructural deficit to meet but it appears this government underrates the gravity of the associated effects of failing to do this. They have in same vain promised Ghanaians more this year which implies an admission of not doing much the past year. We will entreat them to place more emphasis on quality because the quest to more for electoral gains can lead to overstretching the little resources available to cover many areas and thereby compromising with quality. I have seen roads at Chantan and Sowutuom VRA developing potholes after less than a month, we cannot go that way because there is no substitute for quality, if there is, it is definitely not quantity. We will give them 45% due to the infrastructure development in the educational sector.
3.Education
Education was at the very core of Nana's campaign messages and it is fair to say that they have made some efforts in that area. By this they introduced the free SHS including the free boarding element. Everyone who has keenly followed the conversation on Free SHS knows my position but for the sake of the few oblivious of this, let me reiterate it: I would have still done the FREE SHS without the inclusion of the boarding element because other areas of the economy will be compromised in view of cash constrain. Secondly, education to me does not include sleeping and eating but the cost of directly impacting knowledge to the pupils because that has always been taken care of the parents from birth". I believe they have regretted not doing a broader consultation before its implementation but it is a bit too late for now and any attempt to reverse it will automatically give them their passport to opposition. If there is any evidence about the policy being rushed, double track is a loud confirmation.
That said, there has been a significant investment in terms of education which needs to be recommended. It is obvious for all of us to see. Just that those dormitory blocks which are being built could have been done better if proper planning were done to save space and cost at the same. They look too ordinary and not even up to the standard of my old school's dormitory block at NSABA PRESEC.
It is also glaring that over emphasis on secondary education has led to the neglect of Basic Education. Last year, schools were made to use new curriculums without text books. We seem to be so much about numbers at the SHS level that we have given little attention to the quality that will be produced from the basic level. Poor systems like this leads to the production of educated illiterates.
However on a balanced score card which is the measure being applied here, they will be given 50% for the simple reason that the resources being pumped into that as against the output can at best be average.
4.Agriculture:
Agriculture has received a lot of attention under this government and I believe it is a very positive move and hence government needs to be commended in that regard. My only fear is the post-harvest losses. The industrialization drive has not been that successful to put these products into a more useful secondary products to give the farmer the needed demand leading to cash in their pockets and this still leaves the farmer in a state of demotivation. My fear is that if the trend should continue, some farmers may have to give up and this could be a very dangerous to the nation as a whole.
I will recommend that we specialize in the production of goods and services that have high demand like the production of maize, cocoa, and others which are consumed both locally and internationally whiles those without that level of demand are done on smaller scales so that gradually we can develop the market for them. Policies like Planting for Food and Jobs, Planting for Exports are going to be the drivers to our economic growth as a nation if well implemented and identified bottlenecks are effectively dealt will. In view of this, I will give them 65% for the effort put into agriculture so far, they have been impressive.
5.One District One factory / Employment:
In the past three years of Nana's administration, they have tried so hard to generate employment for the youth but to me the whole process has been an exercise in futility. With the exception of some few factories which were themselves in the process of being established by individuals and not the state, the one district one factory concept's implementation in my estimation and capacity as an entrepreneur has been big time failure. The outcome has been extremely underwhelming.
So far, the most obvious jobs created by this government remains NABCO which to me isn't the smartest approach. What happens to those graduates after their contracts expire? Where are the jobs to absorb them?
The process should have been this as I have already suggested in my previous articles: "This same amount of money which is almost 8 million Ghana Cedis per month could have been used to established at least eight mini factories per month which are capable of providing at least ten employment per factory. These factories would then be run by appointed individuals under the supervision of the government over a period of time and be sold out to individual to run them when it has been fully established." By this he would have made true the promises to establish factories and use that as the foundation for job creation.
Additionally, more companies have collapsed under this regime in the forth republic than any other regime especially in the financial sector. This in all put this government at the very negative side as far as employment generation is concerned. I am therefore compelled to give them 35% of the total scores.
I believe they have to go back to the drawing table as far as the One District Factory is concerned, engage the right brains to ensure that this policies makes the kind of impact we expected it to make when it was promised. Some of us are willing to offer such consultancy for free because as long as there are unemployed youth in our society, no one is really free.
6. Fight against Corruption
Fighting corruption was highly promised in the NPP's campaign message in 2016. there was a huge corruption perception about the former President's Mahama led NDC Administration and this also contributed hugely to the NPP's victory. Unfortunately not a single member of the previous government has been found guilty and punished for corruption.
The question most Ghanaians are asking is this; "where are the NDC perceived criminals? is it the case that they don't exist anymore or the current administration is doing worse things than what their brothers in NDC did? Or was it just a propaganda by the NPP just to win power?" Well, answers to any of these will help shape the mindset of the well meaning Ghanaians.
The information available indicates that a few have been arraigned before the court of law but people are of the view that it just an exercise to prove that they are in the process of doing something but in reality, it will not go anywhere. The fact that people have lost hope in this government to fight this enemy is a big disappointment.
Most Ghanaians are of the view that corruption exists big time in Nana's government as much if not more than that of former administration. The friends and families governance is higher here than ever. Nepotism encourages corruption. Also talk about the special prosecutor and it is fair to admit that this government has so far flattered to deceive in the fight against corruption.
Under the circumstances, we are compelled to give this government 20% in their ability to fight corruption
7.Tourism/ Special Initiative
We have decided to include tourism in our assessment this year in view of the successful " YEAR OF RETURN" initiative. This is by far the best thing to have happened to this country under the year being reviewed as far as tourism is concerned and government deserves special commendations for that. Looking at the number of participants and its economic and social benefit it can bring to this nation, we will not be fair if we overlook that in our assessment. Over all, it has been a very successful program and the ministry in charge of that has to highly commended.
Going forward, I will suggest that we find a way to welcome them home permanently. This I believe can be done by jointly organizing a program with Real Estate Developers to provide them accommodation, Eminent chiefs to integrate them into our traditional clans system and the ministry of tourism and other relevant ministries to provide the assurance required in terms of safety and other securities. I believe this would be a wonderful idea since according to history, over 80% of them came from the west coast. We are therefore of the view that 75% should be a fair marks for the tourism drive.
8.The Works & Housing Ministry:
One of this administration's campaign message was an assurance to continue with the good works started by the ex-president Kufour and abandoned by the Mills/Mahama led administration. This I believe impressed voters and contributed immensely to the 2016 victory for Nana. I don't know whether they still mean that statement this time around. Why am I saying this? Those simple affordable houses started by the ex-president Kufour are still left in the bush to rot.
They claim to be introducing some affordable houses but as to whether those projects can see the light of the day I have my doubt.
I can say here for a fact that, as an expert in that field, the chances of those affordable housing project introduced by this government being a successful one is less than 15 percent. This is because the original idea in terms of pricing and to some extent designs was from our end at KOANS ESTATE. Those prices and to a large extent the designs which we gave to the Ghana Journalist Association and some of our customers were just copied from us and same were mostly used without further consultations. We must say in brief, that those prices given were in respect of location specifics in view of the availability of raw material present there and cannot be used as wholesale prices for those houses elsewhere because it will come with high risk of project failure.
We are therefore compelled to give this government 35% for little effort made in the housing and works ministry. Truth be told, their flagship project in this sector has almost all the ingredients of a total failure bound project.
9. Energy:
Energy is the backbone for every industrialized nation. For a country to be industrialized, energy must not only be available but affordable as well. There must be conscious effort by the government of the day to ensure energy security. This government has tried to make energy available but has failed to ensure it affordability. The cost of electrify is overwhelming, the least said about fuel, the better.
Our information from the Finance Minister was that there is an excess power in the system which in itself is a cost to the nation because of the so called "take or buy" contract entered into by his predecessor. I wonder how we think as a nation. Once upon a time I suggested an idea that we should construct Pump Storage Power Plant, (PSPP) and it sounded amazingly foreign to even some or our energy experts, I was looked upon as though sanity had eluded me. But as far as I am concern, one of the advantages is that they could be used to store up some of the excess power in the system when output is more than required and during the peak seasons or system upgrades we can easily release these storages to generate the required power instead of allowing them to go waste.
The cost of fuel here is almost twice if not more than that of the United States yet we are preaching one district one factory. How do industries here compete in terms of pricing with foreign products who enjoy cheaper energy? It is obvious that there is more room for improvement so far as energy security is concern. No wonder those companies who are coming to work on the bauxite - aluminum production will generate their own power instead of buying from ECG because it doesn't make sense to them cost wise. If it does, they wouldn't border themselves integrating backwards to establish their own power supply. My question is how many companies who want to remain competitive will have financial muscles to do same? In view of the fore going adding to the shameful PDS scandal that brought us back to ECG and what the energy minister described as "intermittent power outrages, the smart phrase to void it being described as 'dumsor': I am compelled to give them 45%.
10. Health
Not much has been seen in the area of health in terms of infrastructure. The ambulances are in and will be launched today with the usual funfair. Over 200 ambulances is a big plus and will go a long way to save lives. The excuses given for the delay in earlier distribution didn't add up because it was more about a big party unveil aimed at scoring political points like we are likely to see than urgency to respond to an emergency situation. Secondly, it is an undeniable fact that some districts lack these facilities more than the others and hence despite the promise to deliver to every district an ambulance, the government should have given those available to those needy ones whiles we wait for the rest to be delivered. But that should not take away the fact that the intervention by government has been impressive and going to make a lot of difference.
Most of the Hospital infrastructural projects started by his predecessors have been left to go waste as if that money was not from the Ghanaian tax payer but the NDC as a party.
We are also informed that those drones are in operations but as to how effective it has been we are yet to find out. However, they need to be recommended for that innovative idea to use drones to distribute drugs and key health essentials to remote areas. Rwanda has almost perfected it and from close sources, that inspired us to do same. It will come with challenges but if well managed, the long term impact will be enormous. Under the circumstances therefore, I will give them 52% for the health sector because despite the few issues highlighted, one ambulance for every constituency is going to improve access to intervention considerably.
Conclusion:
In conclusion, government scored 49%, approximated from 48.70% and I believe it is not good enough given the resources available to them. They must therefore be up and doing if they want to retain power come 7th December, 2020. I believe the goodwill created by former President Kufour's administration which has been largely enjoyed by Nana Addo in all his three election campaigns and finally brought him into power in 2016 in view of the excellent work he did during his reign has been totally eroded due to sharp contrasts in terms of the performance of the two leaders of the NPP.
They can play all kinds of games but at the end of the day there is no 100% guarantee of success except to listen and work hard to please the electorates and that is the beauty of democracy. Most of their deliverables are skewed towards political gains and that is not good enough for leadership especially when you're in power and that power rest in the bosom of many people . Nana has this few months ahead of him to redeem this lost goodwill if he wants to retain power this year. The answer is not in change of the voters register. This government won with almost a million votes with the old register because the good people of Ghana believed in the message. A new register on the back of 'a not so good performance wont change much except more money being wasted
It is my prayer that leadership wake up to the realities of the plights of Ghanaian businesses and the people in general and work towards them in order to regain their confidence and not to think that changing Voters' Register can do any magic.
In achieving this goal my little advice to them is that they need to be very strategic in their policy implementation which I pointed out in the early days of this government. In an exams room you don't necessarily pass because you have tackled all questions given you when indeed you have deviated from the answers the questions required of you.
However, you can pass because you have answered the ones you had knowledge of very well beyond the pass mark. Despite priding itself with doing a lot in a short time, the reality is that quality has been compromised across the board. It's not about doing many things, it's about doing the few things very well. I pray again that this government listens and do away with ingratiation and rather welcome positive criticisms and reproach so in the end he and to a large extent, all of us succeed.
Thanks and God bless us all.
Kofi Anokye (CEO)
Group Koans