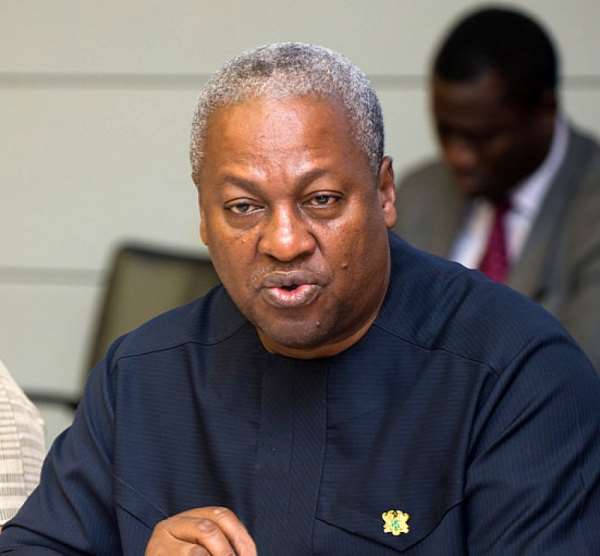 I have kept this news story in my file for approximately seven months now, and have been meaning to comment on it, as I often do with many significant activities and projects initiated by the Akufo-Addo-led government of the New Patriotic Party (NPP). Unfortunately, I have, so far, been unable to get to this particular news report because I have been pressed by other equally significant activities and policy initiatives that are being implemented by the government which all Ghanaians need to take into serious account, as we slowly but steadily head towards the December 2020 General Election. In particular, I want the members of the country's main opposition National Democratic Congress (NDC) to pay heed to what Naba Akuntam Awini said to him when Vice-President Mahamudu Bawumia recently paid a courtesy call on the Chief of Garu, in the Garu-Tempane District in the Upper-East Region.
For those of our readers who may have understandably so soon forgotten another event that happened in the capital of the Upper-East Region, a not-so-progressive and not as auspicious as the one that transpired in the township of Garu, maybe we need to remind you that it was in this very region, during the turbulent Dumsor-inflected tenure of then-President John Dramani Mahama and the latter's National Democratic Congress party, that another politician by the last name of Mr. Mahama met his most cruel and horrible death at the hands of a platoon of rivals from his own political party. I am here, of course, referring to the brutal acid-pouring midnight assassination of Mr. Adams Mahama. The victim was then the Upper-East Regional Chairman of the then main opposition New Patriotic Party (NPP). What transpired next is what I am compelled to recall for the benefit of the nation at large, especially, now that the man under whose watch this most heinous act of human brutality and inexcusable savagery took place, and this shameless and self-righteous man who has been fervidly and aggressively campaigning to be offered the mantle of the Presidency again in order to incubate and literally preside over the same kind of politically motivated brutality that culminated in the tragic death of Mr. Adams Mahama.
On the latter count, we also need to recall the equally scandalous fact that it was under the watch and tenure of former President John Dramani Mahama that a member of the august House of Ghana's Parliament by the name of Mr. Joseph Boakye Danquah-Adu met his grisly bedroom-stabbing assassination. Now, we highlight these two most apocalyptic and traumatic incidents because Candidate John Dramani Mahama has been euphorically traipsing the length and breadth of the country, behaving and pretending as if it was all jolly and peaceful under his rule and the tenure of the Jerry John Rawlings-founded National Democratic Congress. We shall take up another separate aspect of the Adams Mahama and the JB Danquah-Adu narratives in due course, as we come to deem the same to be necessary and relevant, even as Ghanaian voters prepare to head for the polling booth in order to decide which of our two major presidential candidates better qualifies or deserves to be afforded the people's mandate to govern our beloved nation for the next four years.
Anyway, the news article that I presently have in front of me and which I have been keeping in my computer file for seven months now, is captioned "Free SHS Has Reduced Our Poverty – Garu Chief" (AtinkaOnline.com / Ghanaweb.com 5/26/19). Now, listening to former President John Dramani Mahama wax pontifical and self-righteously on the electioneering campaign trail, one would think that the at once most heinous and horrible crime ever committed or perpetrated against the good and hardworking Ghanaian people was the fee-free Senior High School Policy Initiative that was implemented by President Addo Dankwa Akufo-Addo some two years ago. Listening to the now-Candidate Mahama on the hustings, a new arrival in Ghana would think that Ghanaians were a clueless bunch of masochists who gloated and jollied in the deliberate and systematic orchestration and the callous perpetration of artificially induced poverty by politicians who only cared about the needs and aspirations of their own friends and associates, tribesmen and tribeswomen, clansmen and clanswomen and family folks and their nuclear families in an ascending order of importance as enumerated or listed above.
That was what the most strikingly significant development policy initiative unfurled by then-President Mahama, the so-called Savannah Accelerated Development Authority (SADA), squarely and incontrovertibly about. You see, to be picked or selected to sit on SADA's Board-of-Directors as one of its exclusively northern-targeted project supervisors, the nominee or candidate had to first and foremost be of northern descent or parentage. Now, this is not the kind of Ghana that the overwhelming majority of bona fide Ghanaians want or how we want the land of our birth and nurturance to be governed. Alas, Candidate John Dramani Mahama would have it no other way. That is how the sinister Second Coming of Little Dramani would inescapably look like. A mirror-image of the first.
By Kwame Okoampa-Ahoofe, Jr., PhD
English Department, SUNY-Nassau
Garden City, New York
December 31, 2019
E-mail: [email protected]
*Visit my blog at: kwameokoampaahoofe.wordpress.com Ghanaffairs