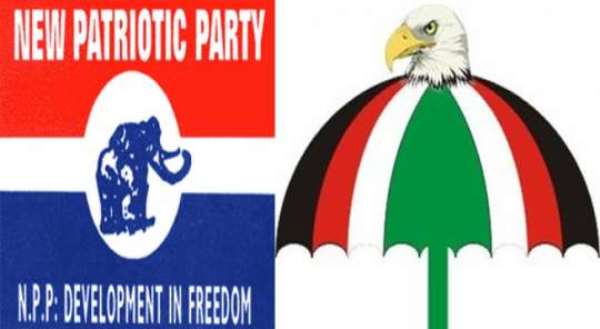 Have I got the heading of this publication right, "Why are NPP always on the defensive while NDC are on the offensive?" I meant to query if NPP are in government but not in opposition, and if yes, why are they constantly being dictated to, and seem to be controlled, by, the NDC? From practical observations, the NPP government appear to dance to the tune of the music called by the NDC, a sign of absolute weakness on the part of NPP. NPP leaders can call it a democratic dispensation where they love to give NDC a long rope that never forms a noose to hang them but for me, it is completely political incorrectness. It is a resultant of lack of focus, lack of political strategy and inability to stick stringently to the plans of hope of achieving Ghana's economic emancipation through the decapitation of institutional corruption. It was subsequent upon the altruist promises as espoused and dangled before Ghanaians, especially the avowed promise to root out corruption from Ghana, that many a Ghanaian electorate was enticed to vote NPP at election 2016.
If you are a leader or a government, you need to exhibit certain characteristics. You need to show that you are leading but not led. You must be firm, fair and very focused. You must weaponize communication to use it more effectively to achieve your policies and programmes. Without explaining your achievements, policies and programmes as well as your difficulties to the governed, how do you expect the people to understand you and to bear patiently with you while you sort things out? You become jumpy, hence being blown anywhere anyhow by whomever same as the wind does to cotton wool come out of its burst boll or pod. This is exactly the nature of NPP from close observation, if I were to be honest with them.
"Na who cause am", as jovially questioned in lingo or "broken" English? Nobody, but NPP must have themselves to blame by failing to do the right thing at the right time. When Nana Addo won the election, many corrupt Ghanaians were scared but again, many were those who were happy that from his known strict character, he would successfully fight corruption as he had promised. However, in less than no time, the NDC saw that he was just a toothless bull. They straightaway, without any hesitation, seized upon his detected signs of weakness to render him totally weak hence what we are seeing now. They are calling the shots from the position of opposition to tell and direct the government, thus NPP, what to do. What a shame!
Yes, the act of governing is not as easy as A, B and C, but if you know what you are doing and what you are up to, things become much easier. There was an opportunity presented to the president on a silver platter but he did not seize it. Why could he not have started fighting the official corruption with the Members of Parliament found to have dubiously availed themselves of double salary? The evidence was there in black and white. These corrupt MPs caught in the act, allegedly went pleading with the president. They have since not been investigated let alone, prosecuted. These very corrupt MPs are today bold enough to accuse the president himself and his government of perpetrating corruption unrivalled in the history of Ghana. Is there any sense in this?
Alfred Agbesi Woyome is still a free man walking the streets of Ghana fooling no less an authority than the Ghana Supreme Court for all these years. What country are we living in? What sort of government is NPP running?
A country is not run so liberally for criminals to be left to do as they want when they want as though, there are no punitive laws to deal with law breakers in the country. No, no and no, the way things are going. If the NDC upon all their known and perceived acts of corruption are today able to turn around to tell the country and the world that the NPP are more corrupt, then God save Ghana.
If the NPP government had acted boldly, pursuing its policies, especially the fight against corruption, vigorously, the NDC would have had no legs to stand on to dictate to, and direct, the NPP as to what to do, although in government.
The NPP should go back to the drawing table to see where they got it wrong right from the very inception (beginning) to readjust themselves correctly. It appears to be too late but "better late than never". The Special Prosecutor who may have intentionally been made weak by certain corrupt politicians or people in Ghana, must be empowered by the president to do his job as the most feared "Citizen Vigilante" that Ghanaians knew of prior to his appointment as the Special Prosecutor. Hon Martin Amidu was more powerful and feared when he was an ordinary citizen than now that he has a bigger post or in an elevated position. Was the position designed and offered to him to make him a weak citizen? What is going on, Mr President and the NPP government?
I can't get my head around why the NDC have got all the powers in Ghana to dribble the NPP government to get the government dazed. I shall blame the NPP for exhibiting weaknesses from the very outset of their assumption of power.
I call for a show of boldness through pragmatism, honesty and meritocracy by the NPP government to curtail the dubious power gained by the NDC.
The NPP, and especially, His Excellency Nana Addo Dankwa Akufo-Addo, must bear in mind the Akan adage, "If you intimidatingly pursue a coward, you will end up confronting his/her audacity" Let the NDC faithful who see NPP as weak and coward, encounter the boldness or fearlessness within the NPP by arraigning and gaoling at least, the MPs who secretly availed themselves of double salary for doing the same one job. Failing to do as suggested, the NPP will continue to be foolishly manipulated by the NDC until the NPP find themselves in opposition come election 2020.
That criminal NDC National Chairman, Samuel Ofosu Ampofo, a blemish on the Church of Pentecost, is still a free man talking rubbish against the NPP. If it were in any of the civilized Western countries of the Whites, Ofosu Ampofo would by now be lingering in prison for his hatched evil plots (kidnappings, arsons, murders and insults etc.) against the people of Ghana all because of his quest to see his foully-corrupt NDC party back in government sooner after their relegation into opposition.
Does the following statement make any sense to the NPP? "The wise does at once what the fool does at last.", said Baltasar Gracian. He meant, "If you are smart, you will jump in and get things done quickly and efficiently. This frees up your time for more things that could improve your life"
A word to the wise is sufficient!
Rockson Adofo
Wednesday, 15 January 2020