The age-old issue of the lack of fire tenders has been revisited following Friday's fire outbreak at the Buipe Depot Truck Park of the Central Gonja District in the Northern Region.
There has been a critical lamentation on the lack of fire tenders coming from the Savannah Regional Commander of the Fire Service, ACFO Kwesi Baffour Awuha himself.
He is not happy about the poor state of the fire tenders at Buipe, which he wants to be changed as soon as possible.
He said their requests for new ones has fallen on deaf ears and the situation which has prevailed for about a month is affecting the delivery of their duty as firefighters.
"From Kintampo, Buipe to Tamale, we don't have a fire cover," the regional commander revealed.
This comes after f our fuel tankers parked close to the Bulk Oil Storage and Transportation (BOST) depot at Buipe in the Central Gonja District of the Savannah Region were totally engulfed in flames.
It took at least two hours for firefighters to put the raging fire, which started at about 7 pm on Friday evening under control due to lack of fire engines.
However, he revealed that the managing director of the BOST company has pledged support to them following the outbreak of fire at the company's depot.
ACFO Awuha also called upon members of the public to come to their aid to repair the fire tenders while they wait on the headquarters of the service to arrest the situation.
"I don't want a situation where there is a fire outbreak that we cannot attend to," he said.
Meanwhile, Savannah Regional Minister, Salifu Brimah has been touring the site of the recent fire outbreak and has also visited those injured victims who have been hospitalised.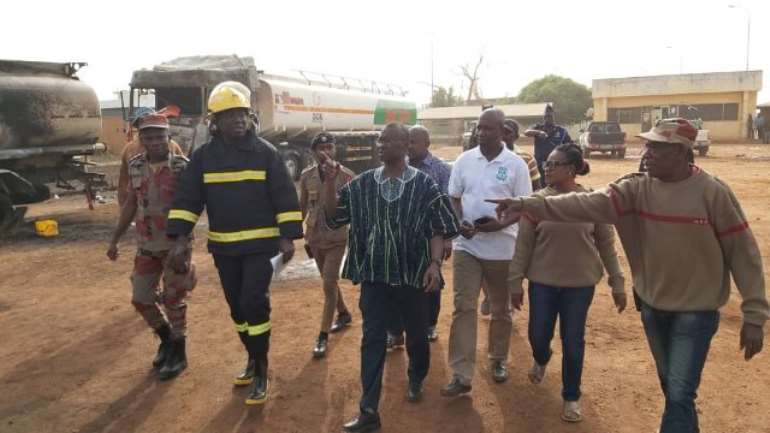 Savannah Regional Minister, Salifu Brimah touring the site of the fire.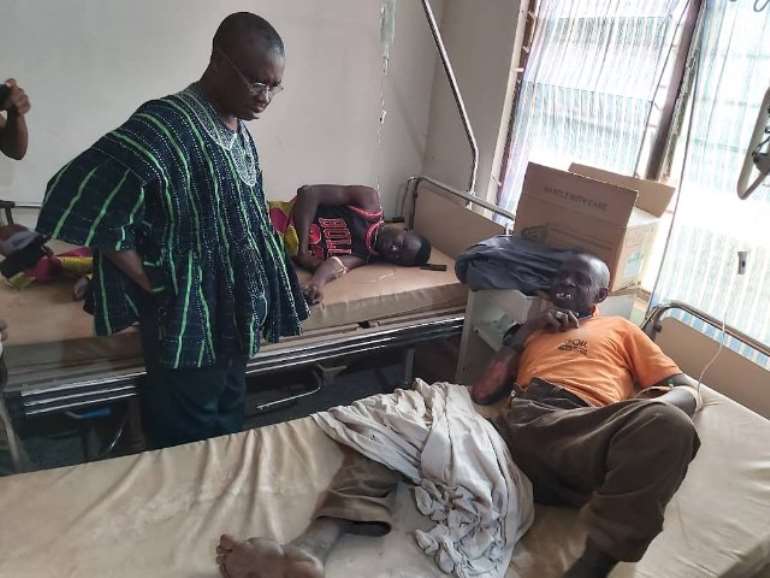 Savannah Regional Minister, with a victim of the fire at Buipe BOST depot.
The inferno was finally put out with a backup of three extra fire engines; one from Damango and two from Tamale.
The blaze started from one tanker and its content and in a short time, a total of four fuel tankers were totally burnt beyond recovery.
No casualties were recorded but an assistant to one of the drivers of the fuel tankers suffered severe burns and has since been receiving treatment.
Two bystanders also sustained minor injuries on the scene.
---MyJoyOnline