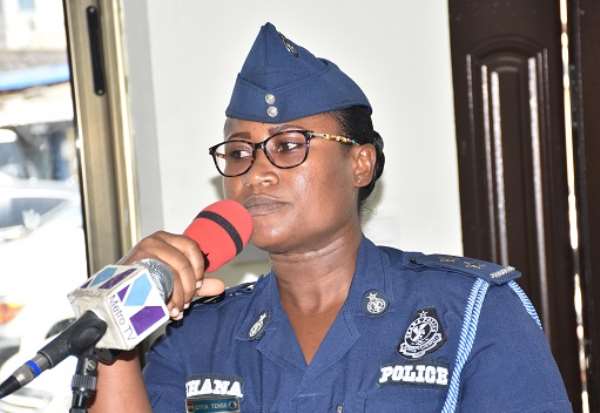 (DSP) Effia Tenge
The Public Relations Officer of the Accra Regional Police Command, Deputy Superintendent of Police (DSP) Effia Tenge has cautioned Ghanaians to be extra vigilant and watch out for strange characters during Christmas.
Speaking in an interview with Lawyer Ohene Gyan on 'Pae Mu Ka' on Accra-based Kingdom FM 107.7, she explained that, the introduction of Operation Father Christmas is to ensure and maintain peace, law and order during this Christmas season.
She also revealed that, apart from seeing Police officers in their uniforms routinely, Police Patrols have also been put in place and with plain uniform men on the field to ensure the safety of everyone.
"Our patrol strategy has been revised so that each and every community will have a Police Patrol on board," she stated.
However, the Police Officer advised Ghanaians to be security conscious to prevent robbery during this occasion.
DSP Tenge therefore encouraged Ghanaians not to panic incase they notice any unusual thing in their various communities but they should immediately alert the Police of such incident.
She advised drivers to stay away from alcohol to thwart unnecessary accidents to save the lives of innocent souls.
"Always lock up your cars in order to stop and prevent robbery in traffic. Items such as phones, iPad, tablets and attractive gadgets should not be left in our cars", she cautioned.