Prez. Spokesman disappoints reporters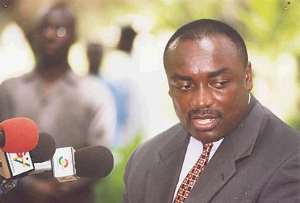 Various journalists who throng the seat of government, Osu-Castle on Mondays and Thursdays for the newly-introduced presidential briefing appear to be unhappy with latest developments at the bi-weekly meeting, addressed by Kwabena Agyepong, the official spokesperson of president J. A. Kufuor. Their anger seem to have burst due what most of term as the elusive nature of Mr. Agyepong on puzzling questions addressed to him at the briefing. Most of these journalists have therefore expressed worry and disgust at the way in which questions posed to the spokesperson are either deliberately left unanswered or treated with scorn by him.
Some are therefore contemplating boycotting the briefing or attending but not to ask any questions whatsoever.
This, they said is because, Mr. Agyepong has continuously refused to answer questions they pose to him either by sheer neglect or treated their questions with contempt.
At times, they noted that he choose not answer questions posed to him as one of them put it "because he says he would not respond to speculations or scare-mongering".
The sentiments of the journalists became clear during the briefing yesterday, when the meetings, which normally lasted for not less than an hour, was cut short after barely 20 minutes.
Anxious journalists who were bent on knowing president Kufuor's position on latest developments in international politics on the arrest and subsequent handing over of Charles Taylor, former Liberian leader to the United Nations-backed war crimes court in Sierra Leone, became disappointed when spokesperson Agyepong said "the president is in the process of being briefed on the situation and his views on the matter would be communicated to you in due course".
After a long pause, with virtually no questions coming, he was compelled to say "I can see disappointment on your faces; why, no more questions?"
He wholeheartedly admitted "this is one of the shortest sessions we've had, you were all going to talk about Charles Taylor, sorry I have disappointed you, the president is in the process of being briefed on the situation and his views on the matter would be communicated to you in due course".
His comments immediately attracted murmurings from the journalists.
Obviously realizing disappointment written on the faces of the journalists and probably overhearing their comments, Mr. Agyepong was tempted to ask, "why, you think I am swerving the questions, I am providing you the best possible answers I can give you".
He further stressed, "I don't want to mislead the public and I can only tell you what I do know".
Other journalists who interacted with the paper said the briefing is being reduced to the level of a platform to debunk claims of the opposition NDC and also as a propaganda machinery of government.
One of such journalists who appeared not to be happy at this said, "If this continues for the next couple of weeks, I would stop coming to the Castle because your questions are discarded under the pretext of being mere speculations".
According to one other, "most of these questions he claimed to be speculations are issues of national interest, but probably because they do not go in favour of government, he chooses not to answer them".
He further stressed "it is high time they realize that we are not part of the praise-singing team nor mouthpieces for government to propagate the policies and programmes of government but to ask questions about government and the presidency".