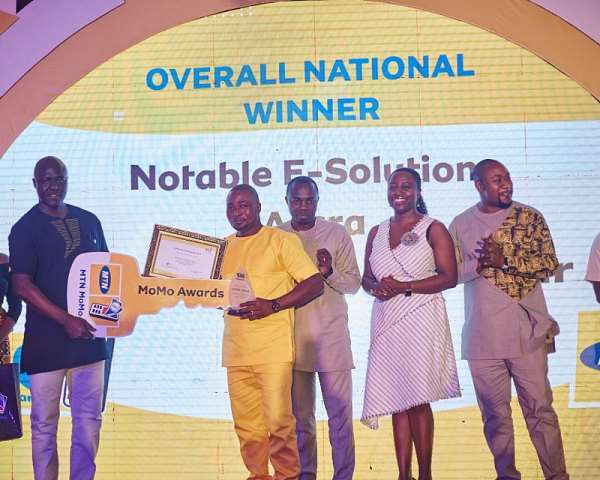 Leading telecommunications giant, MTN Ghana has given away a brand new 2019 Hyundai Santa Fe to the national overall best Mobile Money (Momo) agent as the service marks its 10 years anniversary.
As part of many amazing prizes that have been given away earlier this year, the network providers have wrapped it up with a bang by hosting an awards dinner for the South East Region.
At their Momo at 10 agents awards night at the Alisa Hotel on Friday night, MTN Ghana has rewarded 50 agents and merchants for their contribution to the success story of the service with as many as 350 awards in line to be given away subsequently.
In all, 28 winners including agents and merchants were awarded Samsung Television sets ranging from 32 inches to 49 inches. In addition, 10 agents and 5 mobile agents went home with motorcycles and agents kiosks respectively.
MTN is also flying 5 agents to Dubai on top of the provision of an agent kiosk that will be handed over to the winners upon their return from the trip.
For the big winner of the night, Mr. Peter Kwame Kwadom who emerged as the overall national best Momo agent was presented with a brand new 2019 Hyundai Santa Fe.
The owner of Notable E-Solutions could not hide his joy as he lauded MTN for his prize while stressing that the agents will stay committed to delivering better services to their customers in order to continue transforming lives, businesses as well as the country's economy.
There was also a special award that went to Madam Rita Tetteh for playing the lead role in the first Momo advert for MTN. She was handed the keys to a 2-bedroom house for helping in promoting the service for the last decade.
Explaining the rationale behind the various awards, General Manager of Financial Services at MTN, Mr. Eli Hini shared, "The awards are just a token of the efforts you have put in and the recognition that comes with it and I believe that many more years ahead of us you will be able to take this business to the next level".
He further applauded the media for their role in helping the service gain grounds while assuring consumers that they will continue to make the service better to serve the needs of everyone. He also opined that they are partnering with the Ghana Police to equip them with a forensic lab to tackle the issue of fraud.
A total of 350 agents and merchants will also be awarded amazing prizes at other awards night which will be held in the other regions.
About MTN Ghana/Mobile Money Ltd
MTN Ghana is the market leader in the increasingly competitive mobile telecommunications industry in Ghana, offering subscribers a range of exciting options under Pay Monthly, Pay As You Go Services and Mobile Financial Services. Mobile Money Ltd is a subsidiary of MTN Ghana responsible for Mobile Financial Services. Launched in 2009 with less than 100,000 100,000 MTN MoMo has 14 million registered subscribers.
MTN MoMo works with 18 partner banks and more than 124, 000 agents across the country. By the end of quarter one of 2019, 411million transactions had been done on the MoMo platform. Between 2016 and 2018 a sum of GHS 139million Cedis was paid as Interest to over 10 million customers. For further information, visit www.mtn.com.gh.