87 Major Achievements Claim By Veep: A Move Of Opportunistic Desperation.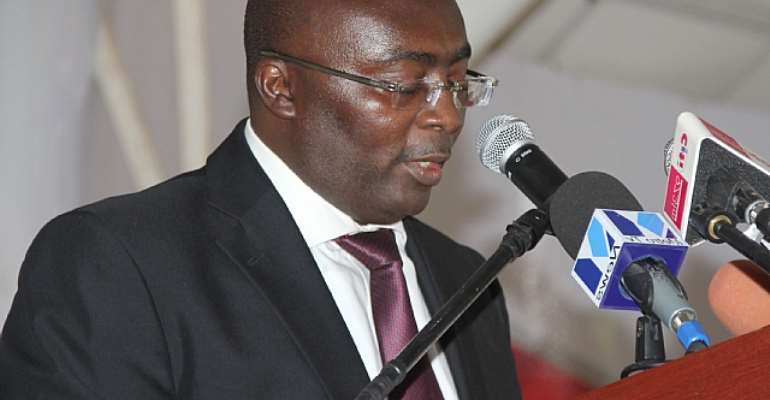 Fellow Ghanaians, believe it or not, every assassin never wants to take a nap supine or reclining! Why? Having made slaying of others his pastime, the assassin is always afraid to avail his own throat while sleeping lest he is avenged.
The paperweight logic the governing party now tries to employ to beguile gullible Ghanaians this time around, simply won't wash! Last week, the country's economic "Jihaddist", Dr. Mahmud Bawumia, addressing a gathering of party youth in the Northern Regional capital, enumerated eighty seven (87) supposed major achievements of his government. For him, Ghanaians may not have short memories, but it is important to always remind them the favors the government has bestowed upon them. But the question is, does the thrower of a frog follow up again to see whether the frog landed on its arm or back?
Chinu Achibe will say if dried bones are mentioned, old ladies become uneasy.
Undoubtedly, the Afrobarometer report by the Centre for Democratic Development (CDD), in which a whopping 42% of Ghanaians are said to have decided to sit on the fence in respect of the candidate to vote for in the upcoming 2020 presidential polls, is what is triggering this latest ranting of government and its empty chest-beating led by the country's greatest political Godson, His Excellency, Vice President Dr. Bawumia.
According to the survey by the CDD, the pendulum of victory of the 2020 general elections has not yet swung in the direction of any of the major political parties in the country, the New Patriotic Part, NPP and the National Democratic Congress, NDC.
As it stance, according to the CDD, runoff shall be the deciding factor between the NPP and the NDC in the impending presidential race.
Majority of Ghanaians have been bitterly dissatisfied with the governance processes of our country. They have grown an electoral cold feet. An indication that even the current government itself which has been fruitlessly working tooth-and-nail to woo Ghanaians, has not been able to sufficiently impress Ghanaians despite their numerous policies and their accompanying debt.
Indeed, unless a mad man, every levelled headed Ghanaian who can walk by sight, read and write, and know few number of sex position styles, knows that the current government has caused more harm than good in the last three years.
Nobody can feel their much talked about economic growth, even though Ghanaians can see the friends, well-wishers, as well as family members of the President, basking in political spoil of war and glory.
As a result, Ghanaians have felt sorely shortchanged and disappointed in a government which body language and activities have redefined democracy in this country as the "government of President Akufu Addo's family and friends, by President Akufu Addo's family and friends, and for President Akufu Addo's family and friends."
Call it Akufu Addo-nian democracy.
So, the Vice President out of desperation decides to make a sing and dance of their rather phantom achievements nobody can feel. But true is, if those so-called flagship policies were indeed life touching and impacting, it would not have taken the country's most authentic economic Messiah to advertise them himself to Ghanaians. In Dagbani we say a good business markets itself! Besides, our elders also say that a cripple must only be carried on one's shoulder to see what is departing and not what's arriving. Economy is managed well to provide an economic serene environment for the citizens. What kind of economy is growing at a speed the government keeps drumming in Ghanaians' ears and yet majority of the citizens literally feed from dustbins?
With such an economic growth, I don't think Ghanaians even need the service of the Information Ministry to know. Let alone the Veep himself.
The flailing and failing economic magician of the New Patriotic Party government, Dr. Bawumia, also claimed rather shamefully that their government has performed better than the National Democratic Congress, NDC, in power. Yes. Despite the most embarrassing corruption laden three years of borrowing to share among themselves through their Guinness world record number of ministers.
He listed few sectors of the economy that recorded negative figures under the previous government, including agricultural, Industry, GDP growth, inflation interest rates, Exchange rates etc. I was shocked to the marrow when he listed rate of debt accumulation. It took me sometime to remember this is politics, where deception and lies are not the exclusive preserve of the young only.
Clearly, whilst the NDC was dressed in alien robes and badmouthed to have engaged in a create-loot-and-share governance, the Akufu Addo led administration could be described as a borrow-to-loot-and-share government!
Recently, a very good friend of mine joked that the way the Vice president is leading the government to borrow as if there's no tomorrow, what would he tell Allah if he dies without paying that accumulated debt under his watch as the cheerless cheerleader of the economic management team of the government? According to him, the longest vest in the Qur'an has been dedicated to addressing debt matters. And there's a reason why "Ayatul Dein" translated as the Verse of Debt, has been made the longest verse in the Qur'an by God. Because, no amount of righteousness, whether from a man or woman, can afford a paradise if he or she died owing. In Islam, God warns Muslims not to make mistake and die while owing anybody. No place for such a person in paradise even if it is a needle he or she was owing. That's why if somebody dies in Islam, until his or her debts are settled, Muslims don't bury him.
"What about an amount of over 90 billion a big time Alhaj has borrowed on behalf of a government's Economic Management Team?" my friend queried.
Perhaps the National Chief Imam may have a voice in this.
In any case, should God accept the fasting of a believer who uses illegal connection of electricity to heat up tea to drink in order to fast for God? I doubt whether God will ever accept such a righteous deed fueled by criminality.
Fellow Ghanaians, isn't it a mendacious display of righteous indignation for a man to spit and collect the spittle with his own tongue from the ground? A party that constantly bragged to be a gathering of angels that rubbished borrowing under a different government, lambasted the advertisement of achievements of other governments, especially the NDC's Green Book, suddenly has the audacity to borrow to work, and want to be rewarded for that electorally?
Like a fellow who uses illegality to do the legal, a government that says borrowing is a crime must not be praised for using the proceeds of borrowing to achieve anything!
Until the Walewale Adam Smith and Father of the NPP's brand of economic growth exercises economic gymnastics to find other ways of achieving what he claimed to have achieved without increasing the national debt stock, no Ghanaian should give him a credit he's not worthy of.
Fellow Ghanaians, a word to a wise is always enough. It's only the fool that has its testicles stepped on twice. Let's not allow another dead scorpion to sting us again as we allowed it in 2016 when the NPP came to power.
Let's not fall for another wicked propaganda again. The four years of this current government is okay. With another four years, our generation yet unborn shall curse us!
Long Live Ghana,
God Bless Us All.
The Writer, Iddrisu Abdul Hakeem, is a MasterCard Foundation Scholar (Alumnus) At KNUST.
E-mail: [email protected]
Phone: 0261669954 (What's up only)