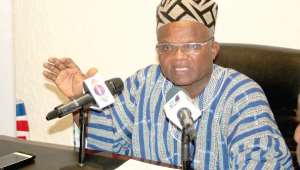 The head of the Local Government Service, Dr Nana Ato Arthur says the strengthening of local governance and grassroots democracy is necessary if the Ghana beyond aid agenda is to be attained.
Speaking at the launch of the 71st Annual New Year School and Conference, Dr. Nana Ato Arthur said this will ensure policies are implemented at the local level of governance.
"We need to strengthen our grassroots democracy. We need to make sure that the MMDCEs are accountable to the electorates and not only accountable to the president who appointed them. For me, that is the way we need to go. How come that the President has security of tenure? How come the assembly members have security of tenure? How come the MPs do and the MMDCEs don't? It is on this basis that we are going to talk about rejuvenating the local economy," he added.
The Ghana Beyond Aid Agenda
President Nana Addo Dankwa Akufo-Addo introduced the 'Ghana Beyond Aid' concept to help create a nation that would be self-sufficient and prosperous, governed according to the rule of law, respect for human rights and individual liberties as well as the principles of democratic accountability.
He sought to create, in effect, a new social contract between governments and their people, in which all financial resources, foreign and domestic, are seen together and used to "get things done", with fundamental, inclusive, development impacts, taking Ghana beyond the frameworks of international donors and institutions for its decision-making.