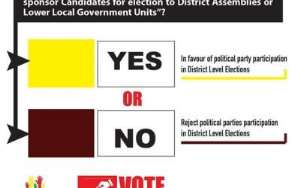 The furore surrounding the upcoming referendum on the bold move by the President of the Republic to give off his privileged position of appointing the MMDCES is completely needless.
Those clamoring for a "NO" vote are either being influenced by their ignorance of the realities on the ground or have taken such unfortunate position in order to play mischief on the minds of the unsuspecting public.
The first group believes a YES vote on partisan lines would bring chaos in our democratic system. How ironic!
We have been electing our MPs and Presidents along party lines since 1992 without any issues.
Currently, MMDCES are appointed based on party lines. In fact, since 1993, we have been appointing MMDCES along party lines without any qualms or chaos in the country so how can electing them on party lines bring chaos?
The current crop of MMDCES were appointed by the president of Ghana and approved the assembly members who are mostly either NDC branch and constituency executive members or NPP polling station, Electoral Area Coordinators or Constituency Executives!
Even the position of PMs within the various Assemblies is partisan!
If we have done this since 1993 without any chaos, how would electing them along party lines bring one?
The second group of mischief-makers would want the world to believe that voting "NO" would never be an indictment on the president but trust me, they would be the very first group of people who would go to town with fist up berating and pontifying how unpopular our president is due to the rejection of his position for first, a "YES VOTE", and second a "YES ALONG PARTY LINES".
A cursory look at leading democratic countries across the globe should have pointed to these "NAY" group preachers that most of these countries indeed elect their mayors along party lines!
I am calling on fellow Ghanaians to see through the motives of "NAY VOTE" preachers and support the President to deepen our democracy by not just voting "YES ALONG PARTY LINES" but actually openly campaigning for citizens to support the president's good intention.
How disgusting to see the NDC sponsoring candidates for the position of National and Regional House of Chiefs and today turn round to preach No!
Disgusting to see the NDC actively sponsoring their candidates for NUGS and SRC elections on the various campuses and today shouting "No to partisan Mayorship"
In fact, in the last Assembly level election, the NDC General Secretary was on record to have said the NDC won a majority of seats at the various Assemblies!
I am by this medium appealing to the President to indeed consider tying in his desire to forgo Article 243(1) to a "YES VOTE ALONG PARTY LINES".
It should be a "NO YES, NO AMENDMENT".
let's support our president by voting a massive YES on December 17th.
God bless our President!
And make our nation great and strong!
Kofi Karikari-Bondzie
(Asebu).