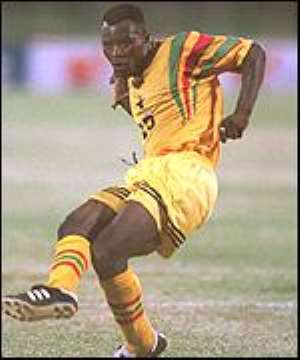 Former Black Stars defender, Samuel Johnson, could make Coach Ratomir Dujkovic's final list to the Germany 2006 World Cup after being listed among a new set of players earmarked for observation ahead of the summer tournament.
The strong defender who features regularly for Turkish side, Kayserispor, has been pencilled in by Dujkovic, among other foreign-based players, for monitoring before picking 32 players or more to assemble in a training camp in Faro, Portugal, on May 16 to finalise preparations for the World Cup.
This was revealed to the Graphic Sports by the Vice-President of the GFA and Chairman of the Black Stars Management Committee, Mr Fred Pappoe, on his return from a FIFA World Cup workshop in Germany.
Dujkovic's decision to recall Johnson, alias Foyoo, is obviously in response to a public outcry for his inclusion after the Stars' poor outing at the recent Nations Cup in Egypt.
The strongly-built Johnson, who was a member of the Stars team that took part in the 2002 World Cup qualifiers, has remained one of the most consistent performers in recent times.
Other absentees who are set to be recalled are PSV Eindhoven midfielder, Eric Addo, and Awuley Quaye Jnr of Egyptian side Zamalek.
The two players have been factored into the plans of the Stars coach as he embarks on a two-week monitoring trip to Europe.
Addo, who has been consistent for the Dutch champions, last featured for the Stars at the Burkina Faso Nations Cup in 1998.
On his part, Awuley Quaye Jnr, who is yet to earn a cap for the senior national team, came into the limelight during the 1997 U-17 World Cup in Egypt.
Ironically, his compatriot and Al Ahly's prized midfielder, Akwetey Mensah, who is the most expensive player and darling boy in the Egyptian league, was not considered.
According to Mr Pappoe, Dujkovic who began his European tour immediately after the FIFA programme in Germany is expected to return to Ghana after the observation trip to prepare towards the training camp in Portugal.
The GFA Vice President hinted that the Stars would play three more international friendlies in their World Cup build-up.
However, the only game he confirmed as sealed is against fellow World Cup campaigners, South Korea, in either Glasgow or England on June 4.
He said the FA has proposed to honour another match between May 30 and June 1 against a team that was yet to be determined.
He stated that the GFA had received offers from Greece, Turkey, Ukraine, Argentina and Columbia, Iran among others, but had not finalised discussions with any of them as yet.
Contrary to speculations, Mr Pappoe pointed out that the FA had no intention to dispense with the services of Coach Dujkovic, but were rather seeking to strengthen the technical team for the task ahead