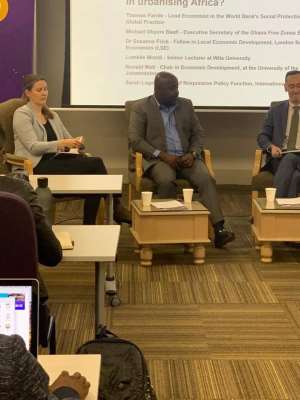 Mr. Baafi (middle) during the interactions.
The Executive Secretary for the Ghana Free Zones Authority (GFZA) Mr. Michael Okyere Baafi participated in a roundtable workshop, on Special Economic Zones (SEZs) in Johannesburg, South Africa .
The meeting was among other things aimed at exploring the potential of Special Economic Zones (SEZS), as an economic policy tool and also viewed at opportune moment to revisit global SEZS issues.
Mr. Thomas Farole, a foremost expert on Special Economic Zones and author of the book "SEZs: Progress, Emerging Challenges and Future Directions", led and moderated the topic on "What Role if any, the Special Economic Zones will play in revitalizing and restructuring developing Economies" .
Representatives from a number of Africa and Asian countries participated and shared their experience in Special Economic Zones during the past ten years and why most Special Economic Zones fail as well as the core underlying drivers to their success story.
The Ghana Free Zones Boss, reiterated Government's policy towards industrialization and shared the success story of Ghana FreeZones Authority.
He also shared with participants how GFZA has contributed in the Government's Industrialization agenda.