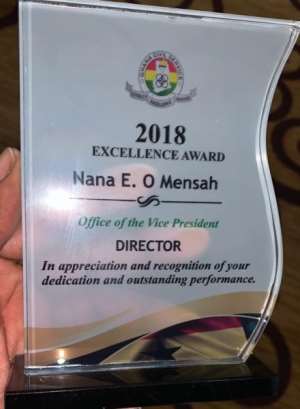 The Ghana Civil Service has honoured the Chief of Ejura, Barima Osei Hwedie II in recognition of his dedicated service and demonstrable interest in the development of the country.
The Civil Service organized the 2018 Excellence Awards on Friday November 8, 2019 at the Accra International Conference Centre and honored the dedicated Civil Servants across the country including Barima Osei Hwedie.
In citation on the plaque award presented to Barima Osei Hwedie from Ghana's Senior Minister, Hon Yaw Oasfo Marfo who represented Vice President Dr. Mahamadu Bawumia as special Guest of Honour to the Occasion, the Civil Service acknowledged the dedicated servitude and outstanding performance of his selfless stewardship
The chief known in private life as Enoch Osei Mensah was brought up in very faithful Christian parents, thus Church of Pentecost, has through his adult life served in all the five Presidents under the fourth Republican.
Barima Osei Hwedie II, 51, who is also the Adontenhene of the Asante-Mampong Traditional Area after succeeding his uncle Nana Kwaku Sarfo Ababio II in 2015, who reigned for 54 years begun his civil service work in the Ashanti regional capital Kumasi has over a decade now proven to be a prolific and reliable servant who's professionalism, boundless energy and enthusiasm towards national development has make him an asset not only to the people Ejuraman but the entire nation as a whole
He is currently serving as the Head of Protocol Officer at the office of the Vice President, Barima Osei Hwedie had pass through the ranks of civil service after serving in Kumasi as a protocol officer designate to that protocols and courtesies are dully adhere to and sanctioned.
The chief right from the onset as civil servant has defied all odds in his work living above partisan politics to selflessly serve his country.
The Ghana Civil Service as part of efforts to bring to light some good works of their servants organized the 2018 Excellent Awards.
The event which coincided with the celebration of the Civil Service Week eventually named Barimah Osei Hwedie as one of the most decorated and distinguished personalities in the world of Civil Service.
Brief profile
Enoch Osei Mensah served as the Ashanti Regional Protocol Officer under the former president Rawlings's Regime from 1999 to 2001
He also served as the protocol officer to the late Vice President Alhaji Aliu Mahama under the former president Kuffour's from 2002 to 2009
He was the Head of Training and Logistics at State Protocol Department 2010 to 2012 under former president John Evans Atta Mills rigime.
Enoch Osei Mensah again served from 2012 to 2016 under the former president Mahama's Regime and was in charge of Operations at State Protocol Department(Assisting the Director of Protocol)
He was later installed as the Divisional chief and the Adontenhene of the Asante Mampong Silver stool in 2015
Currently, Barimah Osei Hwedie II is the Head of Protocol at the Office of the Vice President Jubilee House.