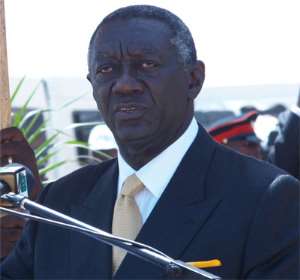 Accra, March 15, GNA - President John Agyekum Kufuor on Wednesday expressed disquiet about the disturbing attacks on the main arms of the Government by some Ghanaians in recent times.
"If we truly want to live under the rule of law, we should have a sense of the limit we could go to impugn the main arms of the State," he said, when swearing in two new Supreme Court Judges, Mrs Justice Sophia Ophelia Adjeibea Adinyira and Mr Justice Samuel Kwadwo Asiamah at the Castle, Osu.
"In just about two months, the positions of both the Speaker of Parliament and Chief Justice had been challenged and this is not the way to stabilise the society and constitutional development," President Kufuor said.
Mr Doe Adjaho, a Lawyer and a Member of Parliament (MP) has filed a suit in court against the Speaker while Mr Bright Akwetey, a Lawyer, has petitioned the President for the removal of the Chief Justice alleging abuse of power.
President Kufuor said the concern he was raising did not mean that the two were above the law, but that it was important to weigh the unique positions they occupied before going ahead to assail their offices.
"Informed members of the society should know the fragility of our nation. More than half of the almost 50 years of our independence was abused by the disruption of the Constitution."
President Kufuor asked the two Justices to live by the Oaths they had taken, the Oath of Allegiance and the Judicial Oath, to uphold and defend the Constitution and integrity of the country.
Mrs Justice Adinyira on behalf of her colleague pledged that they would remain faithful to their Oaths and would never let the nation down.
They would also show total commitment to the cause of justice and democracy.