Salaga South MP supports students with 43,000 cedis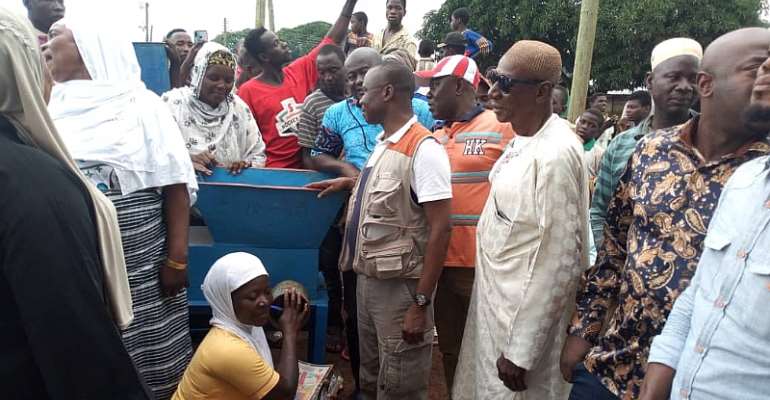 At least 63 tertiary students from the Salaga South Constituency of the East Gonja Municipality have received cash to support them pay their fees.
An amount of 43,000 Ghana Cedis from the MPs share of the District Assembly's common fund was expended to the students by the MP.
The students are drawn from different tertiary institutions across the country.
They received between 500 and 2000 Ghana Cedis.
Presenting the money to the leadership of the students in Salaga, the MP Adam Salifu Braimah who doubles as the Savanna regional minister appealed to the students to learn hard to become the next human resource of the constituency.
He mentioned, he has been supporting students since assuming office as an MP for the area.
He quoted the Chinese proverb that says "it is better to teach a child how to fish than to give him fish"
He explained, poverty shouldn't be a hindrance to education.
"They are the future of our dear constituency when we are gone, and so depriving them of their education today because of money will be a worse mistake and posterity will not forgive us"
He cautioned them to stay away from bad friends who will influence them negatively.
"Good friends and bad friends can all be found in school and so choose wisely" he said
One of the leaders Ali Perpetual, expressed gratitude to the MP cum minister for his gesture.
"I don't want to compare you to your predecessors, however, I can say that you are a rare kind"
In a related development, the MP donated three grinding mails to three communities in the East Gonja municipality.
Kakoshi and Lamsa/Kpambu received grinding mails specifically for milling cassava while Mabung received one for milling maize and other cereals.
The MP in his 2016 campaign assured the women who hitherto walked over 15 kilometres to salaga to grind their food stuffs he will provide them with grinding mails.
True to his words, he presented these machines to the respective communities.