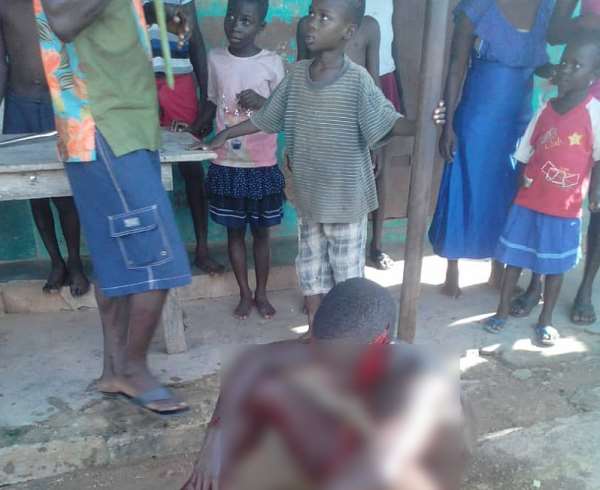 A 30year old man has been butchered by his friend at Breman Kokoso in the Asikuma Odobeng Brakwa of the Central Region.
Kojo Mensah, now deceased died as a result of the butchering.
The deceased, Kojo Mensah Popularly Known as Manthela was murdered whiles in a heated argument with his friend Kweku Boadu popularly known as Cantona over coconut shells.
An eye witness narrated that, the suspect (Kojo Mensah) warned the decease to tidy the environment after sales but refused.
He said, the suspect had complained over the frequent abandoning of the coconut shells by the deceased after sales, and that warned him to tidy the place before leaving.
This, according to witness resorted into a heated argument resulting into the unfortunate incidents.
He said, the suspect in the process picked up a cutlass and butchered Kojo Mensah multiple times.
The suspect butchered the deceased on the head, shoulders and other parts of the body.
The deceased was rushed to the Breman Asikuma Our Lady of Grace Hospital by onlookers but gave up the soul before they could reach the hospital.
Reports say, the victim was not spared, as he was subjected to severe beatings until he collapsed.
They body of Kojo Mensah has been deposited at the Breman Asikuma Mortuary for autopsy, whiles the police is yet to commence investigations into the case.