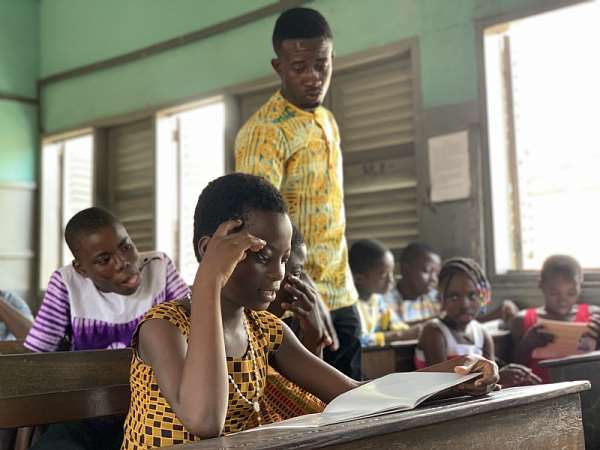 It rained in the morning. But thankfully the afternoon was bright. And I arrived at the venue for our second reading session some few minutes after 12. We had agreed to start at 12:30 p.m. today. Auntie Patience (the Sunday School teacher at the Sacred Heart Catholic Church) had assured me that she had reminded the kids about today's meeting.
But I'd get there and be so surprised by the number of children I met - 10. More surprising was the fact that out of the 10 kids I met, there was only one familiar face - 5-year-old Darlington.
Darlington walked up to me immediately he saw me and ask me where the other "Sir" was. By that he was referring to Patrick Dapaa Kwao. I gladly told him Patrick would come very soon just because of him.
I love Darlington for one thing - he is confident. And the rules apply to him if he likes them or is persuaded to understand they are helpful. Throughout our first session, he shuttled between the two groups - the younger group he was supposed to belong and the older group of 8 - 12 -year-olds. And interestingly he showed clear signs that he didn't want to be with his peers.
I started chatting with the 10 kids I met with the hope that a few more would join.
My experience last week taught me that if I left the classroom to go out there to convince some of the kids dilly-dallying (this was one of the expressions we learnt today) to join us, I'd come back only to meet about half the number I left behind.
Luckily, a few did join. And in about two hours when we closed, we had 17 kids.
We read the first page of a book titled Make Hay While the Sun Shines - the same book we read with the kids we met last week.
None of the children, including a JHS 3 pupil whom I had reluctantly allowed to sit in (because he was above our target group) could explain the title of the book. Admittedly, one other student gave a good guess. And he had a nice reward for that. He thought the expression meant "Work hard while the sun shines."
I read to the kids twice. And I made them read every sentence (breaking the longer sentences into clauses) after me twice. And I got a few who I gathered from my observation could read on their own with little help to start reading out to the entire class.
My fears were heightened at a point. Even those I thought should be able to read with a little help let me down. It took 7-year-old Kimberly and her friend Jayda whom I didn't notice earlier to save the day. (And oh yeah! The kids have very sophisticated names!)
We had a very enlightening session. Each of the 17 kids had the chance to read out alone to the entire class. Some had to read twice because their first reading didn't quite cut it.
And we learnt how to pronounce, spell, understand and use unfamiliar words and expressions.
While we were still learning, and to Darlington's joy, Patrick Dapaa Kwao and Heywood Junior Attoh joined us.
But I think today was Sarah's day. She was the only person who read more than twice. And considering how terrible her first attempt was, I was very happy at how great she could eventually read.
The day wasn't all about seriousness. The kids have a great sense of homour. When 8-year-old Rebecca started reading, the kids started heckling her. It took a while before I understood why they were doing that. They had nicknamed her "Akufo-Addo yere"; which translates as "Akufo-Addo's wife".
I had to persuade the kids before they would stop heckling her. But the message was clear – while the kids may not be good at literacy, they are quite in touch with current affairs.
And it was on such a lively note that the day ended. But it was not without Darlington asking me why I gave him just cookies without adding candies.
The writer, Kwasi Danso Amoah, is the founder of the Theresa Joseph Foundation.
In solidarity with the United Nations' vision to "Leave no one behind" by 2030 and to "endeavor to reach those who are furthest behind first", the Theresa Joseph Foundation works to ensure that the less privileged in the society get quality education.
The Theresa Joseph Foundation focuses mainly on ensuring that young children and youth below the age of eighteen achieve literacy and numeracy and advocating the educational rights of children.
The vision of the Theresa Joseph Foundation is "A WORLD WHERE ALL YOUNG PEOPLE CAN READ AND WRITE."