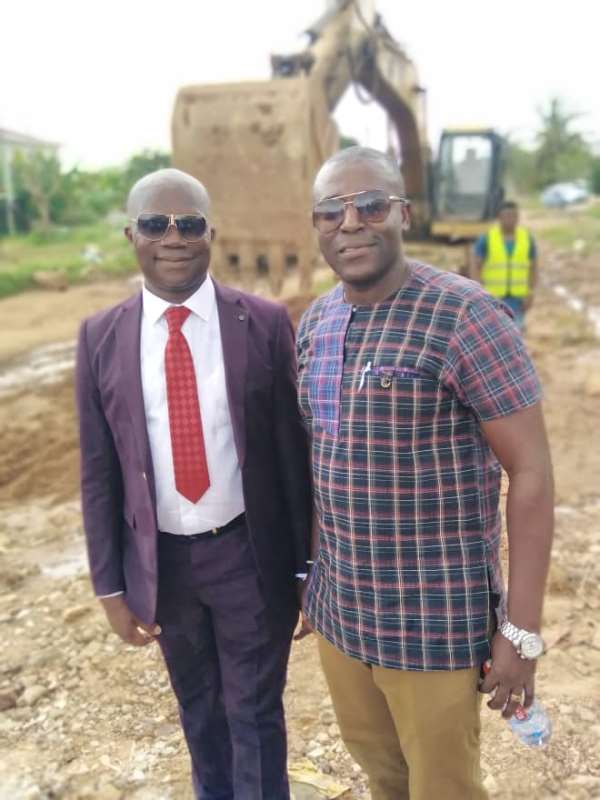 Residents of Gravel Junction a suburb within the New Gbawe Electoral Area , township of the Weija - Gbawe Municipality could not hide their excitement and relief when Messrs GS International, China, stormed their community to commence construction of the 1.8 kilometers Gravel Junction unmotorable road which has been in a deplorable state for decades.
Alomost the entire community thronged the project site to witness the sod cutting for the start of the road construction which was made possible through the excellent leadership of the President His Excellency Nana Addo Danquah Akufo Addo.
Hence, sod cutting for start of project was held on Monday October 7, 2019 at the project site (Gravel Junction).
In that vein, the Chiefs, Opinion Leaders and residents of the community could not help but shower praises on the ruling government for coming to their aid and making funds available for the road to be constructed.
"The bad nature of the road has been there for decades, currently its difficult and sometimes even impossible for us to have access to our homes. Any time it rains the bad situation on the road makes it not accessible at all", Kojo Papa a resident recounted.
Some of the residents after the sod cutting parted the former Assembly Member of the Electoral Area Hon. Patrick Baidoo for being instrumental in getting the road constructed.
"I thank the President and the Municipal Assembly for finally coming to the aid of the residents to construct the road. I am really happy because it forms part of the legacy projects of my tenure as Assembly Member for the New Gbawe Electoral Area, " Hon. Patrick Baidoo stated in an interview.
This section of the road to be constructed forms part of a 8.6 kilometers Gbawe Township Roads Construction Project.
According to the contractors, it will take almost 12 months to complete the Gbawe Township Roads at a cost of about GHS 28 million.
The entire project when completed will see to the construction of earmarked roads from Bulemin, Bluecross, Gonse and others, all communities within the Municipality.
Past Hon. Members of Weija - Gbawe Municipal Assembly Hon. Patrick Baidoo and Hon. Robert Nii Armah Tagoe former Assembly Members of New Gbawe and Gbawe respectively through the Urban Roads Department of the then Ga South and Weija - Gbawe Municipal Assemblies respectively initiated and lobbied for the project to be accepted for construction by the Government through the Regional Urban Roads Department in Accra.
Dignitaries present at the sod cutting were the out gone Presiding Member of the Weija Gbawe Municipal Assembly and former Assembly Member for New Gbawe Hon. Patrick Baidoo, MCE for the area, Hon. Patrick Kumor and Member of Parliament Hon. Tina Mensah, Mr. Amankwah an opinion leader and a host of New Patriotic Party Supporters and Executives as well as residents.