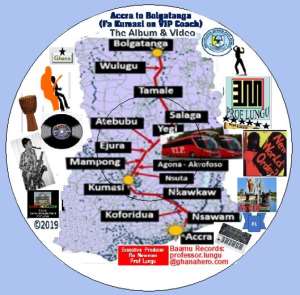 BaamuRecords.Com, in partnership with GhanaHero.Com, today, 2 October, 2019, has released Accra to Bolgatanga Fa Kumasi on VIP Coach, the critical Tour-Ghana 2X documentary video. The entertaining, critically-grounded video features original African-Roots music by the same title, from the enigma, the indomitable, the critically-acclaimed, international social and cultural maven, Prof Lungu.
Released under the BaamuRecords.Com label, the very entertaining, still-videography, Part I, we understand, is an homage of sorts to the People of Ghana and the Government and People of Japan.
You see, as far as we know, Japan is the one country in the world, outside Ghana, Africa, where some of the best-tasting chocolate bars are actually called "Ghana", after Ghana. For the longest, it has been a super-cool shout-out to Ghana as a leading producer of cocoa beans, the main ingredient in chocolate and other cocoa products.
[We are reminded that Prof Lungu, a multi-talented and a serious professional, a globetrotter by some measure, spent several years living and working in Japan nearly a decade ago].
Here, if you want to go straight to the video:

You may want to first finish reading this important introduction, though!
Accra to Bolgatanga Fa Kumasi on VIP Coach, the video documentary, is a serious, purposeful drift into critical conversation and discourse about Ghana, through Ghana, from Accra to Bolgatanga on "VIP Coach", figuratively, of course, aboard V.I.P., the Inter-City passenger transport system that changed travel within Ghana in many positive and important respects.
Accra to Bolgatanga Fa Kumasi on VIP Coach is a must-see video, and the word is that the soon-to-be released multi-track music CD of the same title will feature 5 songs, all original music by Prof Lungu.
As the musical journey goes, the video begins in the 1950s and 1960s, with American Diasporans, from the first Independence Day, to today's "The Year of the Return" program.
Get on the "VIP Coach", 60 years-plus since it all started on the first Independence Day back around 1957, in the new Ghana.
MESSAGE: The "Travel …..Tour..…Ghana" video extols the spirit and presence in Ghana of Dr. W. E. B DuBois, Dr. Sylvia Boones, Malcolm X, Dr. Martin Luther King, Dr Mawiyah Kambon, Movie Star Julian Mayfield. And there, in contemporary life, President Barack Obama, US House Speaker Nancy Pelosi, Congresswoman Ilhan Omar, Mr. Danny Glover, Mr. Michael Jai White, Mr. Steve Harvey, members of the NAACP in America, among many, many, others, past, and present.
It is "The Year of the Return", after all, isn't it!
The tour Ghana documentary 2X video (17:27 minutes), features numerous cities and towns in Ghana, from Accra in the south all the way to Wulugu and Bolgatanga in the north, interspersed with many quality hotels on the grounds in Ghana, as the documentary video and journey evolves. Towns and cities featured also include Nsawam, Nkawkaw, Koforidua, Ejisu, Nsuta, Mampong, Agona, Atebubu, Kwame Danso, Sunyani, Ejura, Tamale, Salaga, and of course, Kumasi, to name a few.
As a social and cultural product for the grassroots, we can report that there are numerous personalities in the video, both Diaspora Americans, Ghanaians, etc. These individuals embody the best in what Ghana represents today in media, culture, and global affairs, thanks to the foundation laid far back in the 1950s and 1960s by Gold Coasters and Ghanaians, themselves.
In random order, we will name in addition to those mentioned above, a few more brilliant, respectable, and important individuals gracing "Accra to Bolgatanga Fa Kumasi on VIP Coach", the documentary video with music never released in Ghana:
President Akufo-Addo
Mr. Cameron Duodu
Dr. Yazid
Professor Molefe Kete Asante
Mr. K. Akoto-Bamfo
Komfo Kwadee
Mr. Danny Glover
Togbe Afede XIV
Mr. Martin Amidu, Ghana Special Prosecutor
Musician Wiyaala
Activist Mr. Solomon Kwawukume
Oki Kano San, Japanese Musician, on Tonkori
The Shabo Crew
Author Ms. Ayesha Haruna Attah
Etc.
Etc.
Etc.
Perhaps, recognizing that nothing permanent is achieved without institutions, the producers of the video take time to also highlight numerous Ghanaian institutions, for the record.
Institutions featured in the video featuring original music by Prof Lungu include:
Ghana Tourism Authority
The University of Ghana
Achimota College
Sunyani Secondary,
Wesley Girls,
Navrongo Polytechnic
Mole National Park
Bolgatanga Polytechnic
Jamestown/Accra
Gbese Mantse Palace/Homowo
NAACP
Jamestown County/VA/USA
United States House of Representatives, featuring Speaker Nancy Pelosi and Congresswoman Ilhan Omar, Washington, D.C., USA.
Etc.
Etc.
Etc.
News media and online portals featured in the video include:
Ghanaweb
AfricaNewsAnalysis, out of Germany
TV3GH
The Freda Abban News Hour
CitiNews
Zongo News Radio
CitiTVGh
GhanaNewsOnline
JoyNews
The Japan Times
ModernGhana
Etc.
Etc.
Etc.
Finally, resilient and critical-minded TV & Radio personalities Ms. Caroline Sampson and The Delay Show Host Ms. Deloris F. Manso, are as well featured in the video, in addition to Private Investigator Anas Aremeyaw Anas, and Jamaican Dancehall Reggae artist Mr. Vegas, among others.
Ghana, respectfully we say, get ready.
Still, we understand there will be more to come from the people at BaamuRecords.Com, without doubt.
Yes, get on the "VIP Coach" this year, "The Year of the Return", 60 years-plus since it all started on the first Independence Day back around 1957.
ITEM: Accra to Bolgatanga Fa Kumasi on VIP Coach, the "Travel …..Tour..…Ghana" 2X documentary video, is available as a free listen and download, on Youtube.
We invite you to watch and download the video at your pleasure, at:

Do that, if only for the record!
NOTICE: Struggling songwriters, singers, and musicians requiring support for music production, promotion, education, and marketing services should contact BaamuRecords.Com. Others may of course contact them also, should they have questions or comments.
CONTACT
Email Address: artists at BaamuRecords.com
Email: professor.lungu at ghanahero.com
BaamuRecords.Com©2019
(2 October, 2019)