Re-Orient Reporters On Better Election Coverage of MMDCEs — Minister To Editors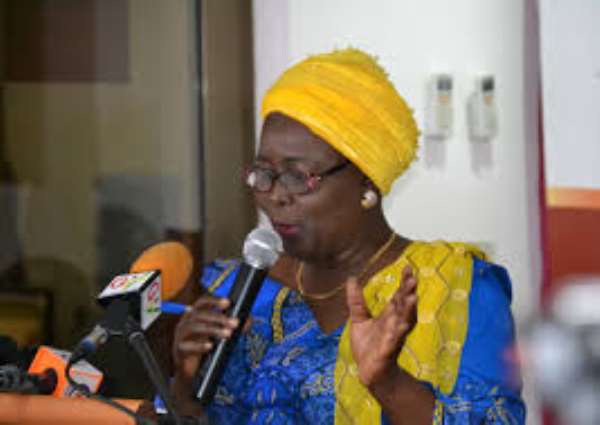 Minister for Local Government and Rural Development, Alima Mahama has challenged editors of local media houses to re-orient their reporters on how to properly report on the upcoming election of Metropolitan, Municipal and District Chief Executives (MMDCEs) and December referendum.
According to her, the media should also join forces with the Ministry of Local Government and Rural Development (MLGRD), National Commission on Civic Education (NCCE), Information Services Department (ISD) and Electoral Commission (EC) to educate the public on the need to vote massively for the referendum.
Speaking at the editors forum on the 2019 Referendum to amend Article 55(3) of the 1992 Constitution, the Minister said "The amendment will pave way to introduce political party participation in local government to deepen democracy, ensure effective activism and mobilization as well as accountable governance at the local level".
She further added that public awareness is also required of the citizenry to prevail upon their Members of Parliament (MPs) to approve the bill to amend Article 243(1) when the House resumes in October.
"The electing of MMDCEs on partisan basis has been identified as key to resolving the democratic deficit in Ghana's governance system. This helps promote local democracy by affording local people the opportunity to choose their own leaders.
"If we elect our MMDCEs, those of us who will be alive in the next 20 years will see remarkable changes in our communities," she stated.
The minister lauded the media for their contribution in disseminating newsworthy information for the upcoming election of Metropolitan, Municipal and District Chief Executives (MMDCEs) and December Referendum.
The Ministry of Local Government and Rural Development is confident that after interacting with stakeholders across the country on the perceived demerits of electing MMDCEs on partisan basis, it is confident it will resolve the consequential reviews and amendments to existing laws as well as policies in the strengthening of the administrative/governance institutions.
In the 2016 general elections, the direct election of MMDCEs was a campaign promise of successful presidential candidate Nana Akufo-Addo. The proposed changes would involve amending article 243(1), which provides for the appointment of MMDCEs by the president, and article 55(3), which bans political party activity in district-level elections. As article 55 is an entrenched clause, the referendum requires a turnout of at least 40% and over 75% of those voting to vote in favour for the proposal to be passed.
Joshua Kobby Smith
Journalist