Ejura Zongo Chief Awards Mustapha Sabit For Winning Qur'an Recitation Contest At Ejura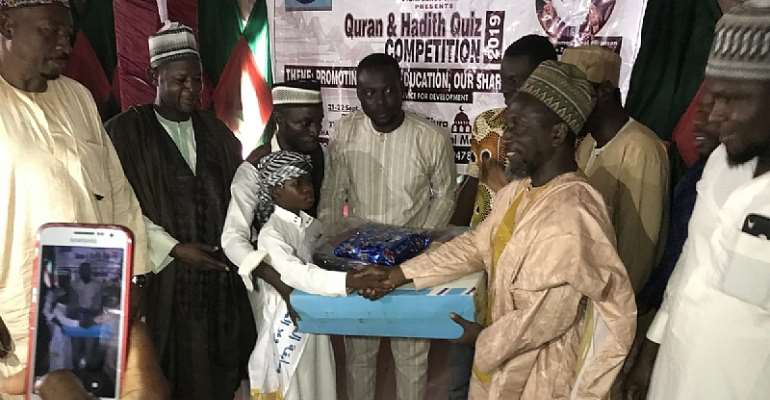 The Qur'an is the Holy Book of Islam and was revealed to the Holy Prophet Mohammed (S.A.W) and the Hadith contains the sayings of the Holy Prophet Mohammed (S.A.W). These are a major book of knowledge that guides Muslims in their day to day activities.
There's is, therefore, the need to promote its study among Muslim children so that, they may know the dictates of Islam, which is a religion of Peace.
It is in view of the above that, the Concerned Youth Of Ejura, a community-based organization that is working to promote the development of the youth and that of Ejura) under the auspices of the Ejura ZONGO Chief initiated the Qur'an &Hadith Competition to promote Arabic Education within the Zongo Community in Ejura.
At the end of the Qur'an recitation competition, Mustapha Saabit from Darul-Salaam Islamic School came first. Hanan Mohammed Amin Bamba from Ihya Au Deen came second and Mohammed Awal Mohammed from Islamiya came third. Various prizes were awarded.
On the Hadith competition, Thirteen (13) Arabic Schools participated with Ihya Au Deen Islamic came first followed by Darul Salaam Islamic School, Irshadiya Islamic, and Rufaiya Islamic School.
Speaking at the closing, the Ejura Zongo Chief, Alhaji Suraj Mohammed Alhassan admonished parents and all stakeholders to take pride in promoting Arabic studies as that is one way Islam can be promoted. He also extended his gratitude to the Concerned Youth of Ejura, all Arabic Teachers And those who donated to support the Project.
The Secretary to the Concerned Youth Of Ejura, Mr. Abubakar Saddique also stated that the children are the future leaders. As such, the love for seeking knowledge must be inculcated in the young ones. He stated that this initiative he believes is going a long way to allow as many of the children who didn't take part to also work hard to be part next year and also put various Arabic teachers on their toes to sharpen the recitation skills of their students. In all, he thanked all those who made this possible especially Alhaji Suraj Mohammed Alhassan, the Ejura Zongo Chief, under whose leadership this came to fruition.