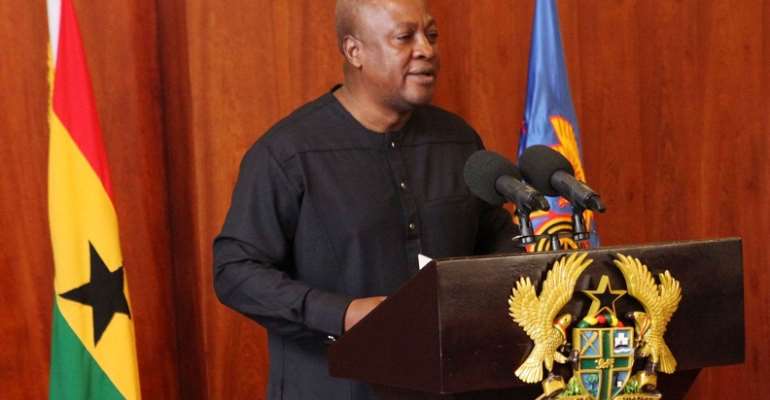 While on tour of the Upper-West Region, recently, President Addo Dankwa Akufo-Addo was widely reported by the media to have alleged that a remarkable number of the E-Block schools about which former President John Dramani Mahama has been bragging about having completed during his four-and-half-year tenure, but which the present Akufo-Addo Administration had supposedly abandoned for cheap political and ideological point-scoring reasons, were actually never completed (See "Mahama Didn't Pay for E-Block Schools – Akufo-Addo" Chronicle.com.gh 8/20/19). Even more disturbing, we also learn from President Akufo-Addo that these uncompleted E-Block school buildings were also not paid for by the previous John Dramani Mahama regime.
Now, there are two questions, actually three, that ought to be posed here. The first of these is why has former President Mahama been traipsing the length and breadth of the country bragging about having put up and completed a certain number of these E-Block school buildings, on his electioneering campaign, when in reality these school buildings were, in fact, never completed, to begin with? And then, as well, why would the former President contract to have these physical plant facilities constructed without having budgeted for the payment of the contractors who put up these partially completed structures beforehand? This may be a clear sign of the abject lack of fiscal responsibility on the part of our politicians – at least a remarkable percentage of them – who appear to be more fixated on establishing bragging rights than actually seeing to it that earmarked projects are promptly undertaken and completed on time, and paid for on time as well, so that these otherwise significant projects do not become a burden to the succeeding government or governments?
Then also, it would be advisable for most of these basic projects to be planned and executed according to four-year schedules, rather than casually assuming that the next government will promptly and automatically complete the same, when that succeeding government may, expectedly, have been voted into power primarily based on its own independently crafted agenda. This well appears to be the problem here. Which may very well also be the reason why some government critics and commentators have been calling for either a 10-year or 20-year development plan for the country. I, personally, find such demand to be counterproductive and insensitive to the fact that in any constitutional democracy, such as Ghana has been pursuing since 1992, the right of any elected government to implement its own manifesto-driven policy and development agenda cannot be dictated by side-sitting armchair critics and pundits.
The preceding notwithstanding, we also need to equally demand accountability from the present Akufo-Addo-led government of the New Patriotic Party (NPP). And the logical question to ask here, of course, regards the fact of why it has taken close to three years for the President to inform residents of the Upper-West Region and the rest of the country that the previous Mahama-led regime of the National Democratic Congress (NDC) had undertaken too many worthwhile projects that it had not intended to complete within the temporal space of the four-year mandate that it constitutionally bargained for. I mean, at least one or two presidential aides and staffers ought to have periodically looked over the shoulders of Mr. Mahama to remind the latter of the stark fact that the 8-year tenure that he seemed to be so fixated on, was sharply at variance with his constitutional mandate, more so when his performance track-record left too much to be desired.
I am also not very much impressed with this apparent cross-partisan fixation with the construction of 60-bed hospitals in a country with one of the highest rates of population growth around the globe. At any rate, I don't see how anybody who is well-traveled would call a 60-bed clinic or health center a full-fledged hospital. In sum, my argument here is that our leaders and experts in development planning need to think at least a generation or two ahead in crafting and executing these long-term and socioeconomically far-reaching projects.
Ultimately, however, I am far less interested in the mere construction of these projects and public landmarks than their regular maintenance and periodic upgrade, where necessary. But even more significant is the up-to-date equipment of these healthcare facilities, so as to enable the poor and economically deprived who cannot afford medical treatment abroad, like our rich and powerful politicians, to be able to access some of these privileges right here at home.
*Visit my blog at: kwameokoampaahoofe.wordpress.com Ghanaffairs
By Kwame Okoampa-Ahoofe, Jr., PhD
English Department, SUNY-Nassau
Garden City, New York
August 20, 2019
E-mail: [email protected]