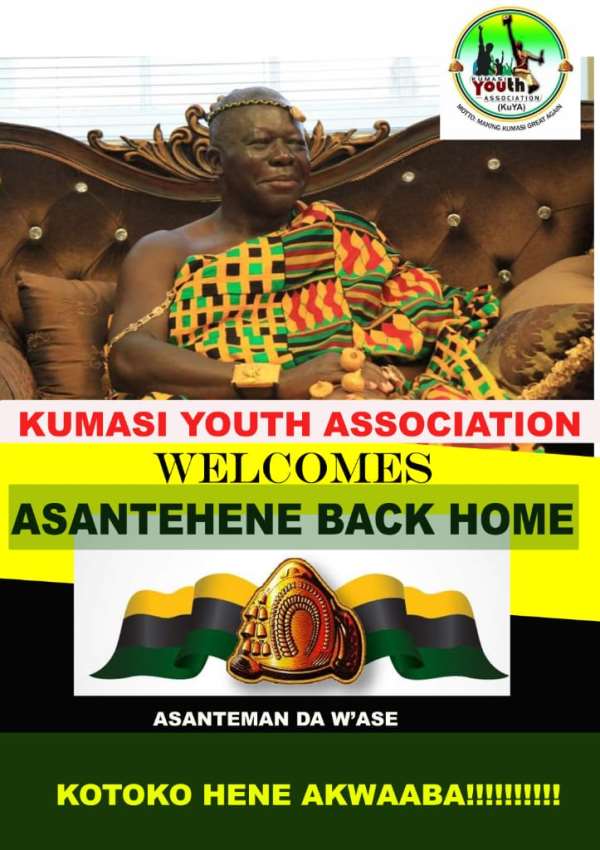 The Patrons and Executives of Kumasi Youth Association (KuYA) would like to bring it to the notice of the entire members of KuYA, the General public and Asanteman that Otumfuo Osei Tutu II will arrive in Kumasi on Tuesday 24th September,2019, at 3pm from the USA after Ɔpemsoɔ's Historic UN address on high-level Forum on the culture of Peace with the theme"20th Anniversary Of culture of peace: Empowering and Transforming Humanity.
The Patrons, Executives, and its entire members would like to congratulate Opemsuo Kotoko-hene once again for the glory and honour done to Asanteman, Ghana and Africa at large. We would in great pride in our rich Asante culture welcome the King home on the date and time above.
KuYA has intercepted a directive from some political parties in Ghana of their intention to meet Opemsuo Otumfuo Osei TuTu II in their party colors and symbols on the said day at the Kumasi Airport.
We would like to put it across that;
Firstly, Otumfuo and the Manhyia Palace
does does not engage in partisan politics, and would therefore like to be met with Asanteman colors and symbols not people in their party colors. His presence at the podium of UN represented the Asante Kingdom, Ghana and Africa in general, and should be welcomed as such. This historic day shun all political activities and deem it to be a purely cultural display day.
Again, this directive would be an unhealthy manner of welcoming the King. Considering the political heat in Ghana currently, the meeting of these political parties on a special occasion like this with party colors is highly discouraged. KuYA backed by Nananom want to state emphatically that this directive is not welcomed and should be put to a halt.
Moreover, Nananom and the entire Asanteman would like to meet Otumfuo Osei Tutu II as subjects of the Kingdom welcoming their King home from the memorable event at the UN, and political interference will mar this purpose.
KuYA would therefore like to put across that no partisan appearance would be accepted at the meeting of the King, and hereby advise all members of suchIi political parties to defray from this directive. All who act deviant on this would be dealt with ruthlessly.
Notwithstanding this, the general public is welcomed on board to meet the King, but we encourage all dressing should be in the Asanteman colors and symbols. Let all come in cultural status free of partisan politics.
Thank You
Signed
Kwabena Frimpong
(General Secretary,KuYA)
0204910050
Tweneboa Kodua
(General Secretary,AYA)
0248833353
Nicholas Donkor
(ASU National President)
0243321771
Sasu Danquah
(Publicity Committee Member,KuYA)
0544925993
Rita Kwankye
(Financial Controller,KuYA)