Must Kennedy Agyapong Be the Only Millionaire in Ghana?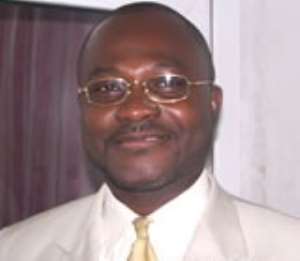 Kennedy Agyapong
The call by Mr. Kennedy Ohene Agyapong for Dr. Johnson Asiamah to be arrested, merely because the former Second-Deputy Governor of the Bank of Ghana (BoG) has allegedly purchased a house that is reported to be worth $1.5 Million (USD) in the upscale Chains Home neighborhood of Airport Valley in Accra, to say the least, is insufferably preposterous (See "Kennedy Agyapong Calls for Arrest of Former Deputy Governor of BoG" Ghanaweb.com 9/14/19). If the hip-shooting cantankerous New Patriotic Party's Member of Parliament for Assin-Central, in the Central Region, has any evidentiary paper trail pointing to the fact of Dr. Asiamah's having stolen the Ghanaian taxpayer's money to make such a humongous purchase, then, by all means, let the proprietor of the Oman media network make his case to either Attorney-General Gloria Akuffo or Special Prosecutor Martin ABK Amidu, and stop behaving as if he is the only Ghanaian citizen with an inalienable constitutional right to changing his economic status from poor to rich.
We know some of the knavish methods which the sometime Bronx, New York, resident has used to enrich himself because Mr. Agyapong has not hesitated to shamelessly let the general public know about such predatory methodology. For example, Mr. Agyapong, who also claims to own more than 100 (one-hundred) houses, has not hesitated to boastfully tell Ghanaians that he heavily invested in the fortunes of the New Patriotic Party (NPP), both under the leadership of former President John Agyekum-Kufuor and, presently, under President Addo Dankwa Akufo-Addo, and therefore has a preeminent right to receive the lion's share of government contracts over any other members of the ruling New Patriotic Party.
In other words, for the Assin-Central's NPP-MP, the sole and primary objective for joining either of the two major political parties in the country is to gorge oneself or feed fat at the expense of those ordinary Ghanaian citizens who do not have the massive wherewithal to invest in the political fortunes of either the main opposition National Democratic Congress (NDC) or the ruling New Patriotic Party. And when he has not gotten his way, by way of being ceded a remarkable percentage of the most lucrative of contractual awards from Jubilee House, or wherever it is in Ghana that government contracts are brokered or dished out, Mr. Agyapong has not hesitated to take to the broadcast airwaves to recklessly malign some of the key operatives of his party in charge of these contracts a remarkable number of whom he has publicly accused of being guilty of bribery and corruption.
In the past, Mr. Agyapong has accused nearly every senior staff operative of the Akufo-Addo Presidency of being guilty of bribery and corruption. To be certain, much of the mudslinging accusations of corruption by the NDC's opposition leaders against the Akufo-Addo government has been motivated by the reckless and self-serving rants of the Assin-Central MP. Mr. Agyapong also erroneously seems to believe that it is strictly party affiliation that entitles one to the awarding of government contracts, and not the universally accepted standard practice of merit or professional qualifications or the requisite professional experience and proven competence in the execution of contracts so awarded. Recently, for instance, one of Mr. Agyapong's wives was widely reported to have been awarded a streetlighting contract via the establishment of a shell company whose ghost employees had absolutely no experience, whatsoever, to execute their contractual terms of reference. Of course, they were only "ghost employees."
Mr. Agyapong has also publicly advertised himself as one who envisages political power as an exclusive right for milking both "underclass" party members and affiliates who do not belong to his robber-baron class of political vampires and members of the political opposition, irrespective of specific party membership. Which is why recently, Mr. Agyapong was also widely reported by the media to have virulently assailed party officials who were "suicidally" ceding some very lucrative contractual awards to some members of the main opposition National Democratic Congress. It is quite obvious that Mr. Agyapong needs to take a college course on leadership fairness and peaceful political coexistence. His kind of politics clearly contradicts the visionary and all-inclusive progressivism of President Addo Dankwa Akufo-Addo.
Mr. Agyapong also needs to wake up and see constructive democratic political culture for what it incontrovertibly is. And here, of course, the unmistakable reference is to the civilized ideological, and sociological, concept of "living and letting others lives as comfortably as oneself as well."
*Visit my blog at: kwameokoampaahoofe.wordpress.com Ghanaffairs
By Kwame Okoampa-Ahoofe, Jr., PhD
English Department, SUNY-Nassau
Garden City, New York
September 15, 2019
E-mail: [email protected]