V/R: EC Manipulating To Disenfranchise Voltarians—NDC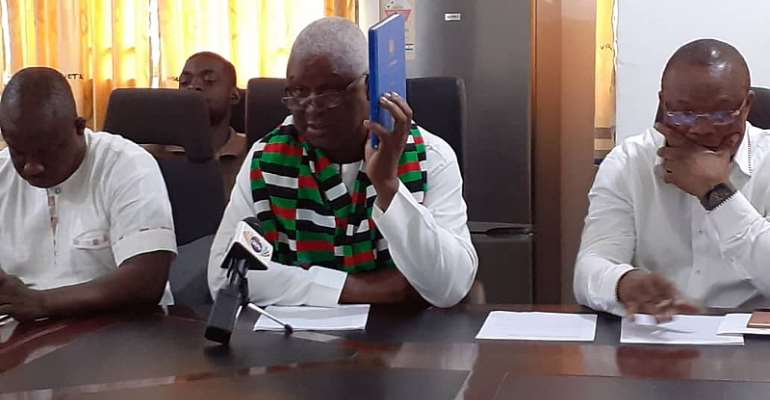 Volta Regional National Democratic Congress (NDC) is accusing Jane Mensa led Electoral Commission (EC) of disfranchising Voltarains in the voter exhibition exercise.
They described as unacceptable the EC action towards the 2020 general elections.
According to the party Executives, the EC is not doing enough toward smooth elections in 2020.
At a press conference held in Ho, the Volta Regional Chairman of the party, Henry Ametefe, indicated that, the Electoral Commission has demonstrated enough symptoms of unpreparedness for the exercise.
The inability of the EC have " introduce lots of distortions onto the Electoral Roll."
He noted that the failure as a result of the non-utilization of the Constitutional Instrument (CI) 91. " we would also like to refer you to some relevant aspects of the CI 91 which is the law regulating the Electoral Commission in the registration and exhibition of voters which they are in complete breach of" he said.
Mr. Ametefe also accused the EC for unfair exercise in the region, saying that it aims to disfranchise Voltarains in their participation in national exercise. "We have toured the various exhibitions centres across the region and have observed that, the exercise is going on in unconditional manners."
"And in observation there are no biometric verification devices at the various polling stations, voters on multiple list are many, exclusion list are numerous, implying that affected voters may not have the chance to participate in the elections, whiles some of the polling stations are not being provided with the register early, this according to him is making it difficult for voters to go verify their details.
"In the Hohoe constituency, there are about 2,000 multiple list, 247 in Ho, 725 in Kpando and about 1,736 multiple list were recorded in the coastal belt of the region, this indicates that voters have appeared in more than one voters register," he alleged.
The party however said it is prudent the EC identify and correct it's mistakes in the remaining days to avoid further difficulties.
According to the NDC, it will not keep silence until genuine work is seen.
The Executives noted that, they will not also sit unconcerned for the EC to play games in the come general elections hence "the NDC is bent to recapturring power in 2020."