Oguaa taxi drivers withdraw services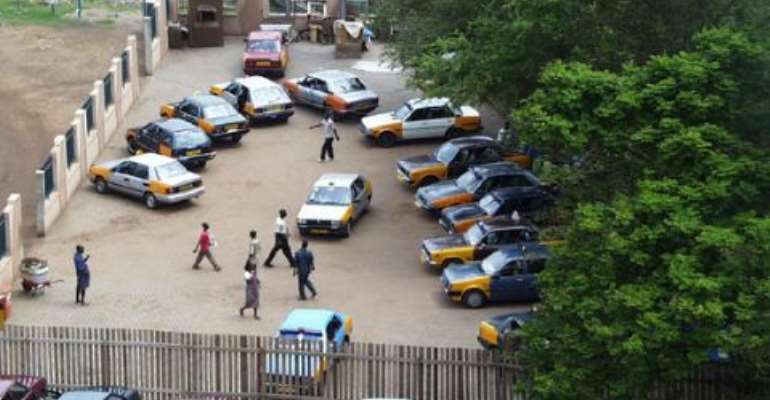 Cape Coast, Feb. 23, GNA - Many taxi drivers plying in the Cape Coast municipality, on Thursday withdrew their services in protest against the five per cent increase in fares, announced by the national secretariat of the Ghana Private Road Transport Union (GPRTU) on Wednesday.
The GPRTU announced the increase in fares following last week's increases in fuel and petroleum prices. Metro mass transport buses in the municipality were therefore mobilized to convey workers to and from their workplaces to remedy the situation.
When the GNA got wind of the drivers' action and contacted the Central Regional Secretariat of the Union in Cape Coast, Mr Robert Eshun, Regional Chairman, explained that the action of the drivers was "a plea to the authorities for a higher percentage increase in fares to enable them to break even".
According to him, fuel price increase affected everything and observed that in computing lorry-fares, prices of other items, such as lubricants, tyres and spare parts should be taken into consideration to enable vehicle owners to remain in business. He said the regional executive had, however, appealed to the drivers to go back to work to and refrain from preventing other drivers from working, as "frantic efforts" were being made to address their grievances.
Mr Eshun said the executives had also met with Nana Ato Arthur, the Deputy Regional Minister on the issue and that another meeting had been scheduled for Friday with all stakeholders in the transport sector, to resolve the issue.
When contacted, Alhaji Muniru Arafat Nuhu, Cape Coast Municipal Chief Executive (MCE), expressed surprise at the action of the taxi drivers because the decision to increase the fares by five percent was taken by their leadership in Accra.
He stated that a meeting was held with their executives and other stakeholders on Wednesday to ensure that they complied with the increase, adding that the drivers should have "used the proper channels" and not resorted to the withdrawal of services.
The MCE advised the taxi drivers to go back to work and to seek redress to their grievances through the right channel. Inspector Emmanuel Okoso, Regional Police Public Relations Officer also told the GNA that police had information that taxi drivers at Abura a suburb of Cape Coast were demonstrating and preventing commuters from going about their normal business.
He said executives of the local branch were invited to a meeting with the Regional Police Command, where the Regional Commander, ACP Rose Bio Atinga advised the drivers to be law abiding and not to prevent those willing to work from doing so.
At the time of going to press, some of the taxi drivers had heeded the advice and had commenced work.