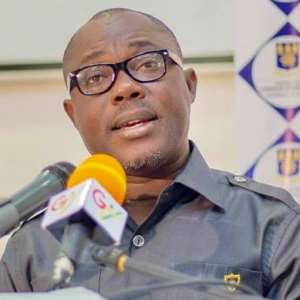 Prof Gyampo my fellow Larteh dehye, I am jaw dropped by your by your statement which subjects comedians, footballers, actors, musicians and people who have won our hearts to ridicule and disdain.
In which scientific research or empirical leadership data or debate have you chanced on as an astute academic giant that superimpose other career and traits above the career and abilities you listed, and requesting we subject them to strict proof of service and exemplary leadership or achievement.
In the transformational leadership research by Judy Rosene, leadership was never equated to career path or kind. Recently, psychology today and international coaching federation equally published how leaders emerge with no bearing on career traits or type. Wherefrom this your purported insinuation.
I am shocked, which kind of people laid the foundation, modelled and promoted civilization, and in turn spearheaded the making and promulgation of democracy from Egypt, Greece, to Rome, etc In fact this position cannot be supported by any evidence from prehistoric times to this 21st century of the 4th industrial revolution.
I humbly submit to you Prof Gyampo that this your call and position is gross disrespect to the fundamental human rights of the group of careers listed, it is also an affront disrespect to the constitution of the republic of Ghan which clearly defines who can be a representative of their constituency, and lastly, it an insult to the demos who decide on who should represent them.
It can never be that, if there be a scrutiny and shift in electing our leaders, it must not be or needs to be on those from the bracket you listed.
Prof Gyampo, it is this of line of mentality and mindset that subjected technical and vocational education (professional ) to ridicule which pushed them from the table of development dialogue. This is evident in how our education is shaped to the extinction of voctech education, because we don't see how they fit into the chain of technological drive on development except they are in the degree level. Such stereotyping and labeling is very dangerous path to any national development, which I think it should not have come from a man of such academic pedigree but I respect your position as form of "freedom of speech" enshrined in our constitution.
Prof Gyampo, in one of the works of Oxford author Keith Grint, "The Arts Of leadership" a course book for many courses, he submitted that leadership is a summation of "The philosophical Arts : issues of identity, Fine Arts : Strategic Vision, Martial Arts; organizational tactics and The performing Arts; persuasive communication.
There is no leadership debate the makes other careers top model than another. Because leadership isn't a matter of only cognitive abilities but the dexterity combination of behavioral and situation context as well.
If this your labeling is anything to go by then I wonder how Mother Teresa, Martin Luther King Jnr, Mandela, Plato etc could pass for leadership models to be studied. Leadership is influence and transformation, when America went to the moon, the president wasn't a scientist and inventor. Every flaw you will find on any astute comedian, musician, footballer and actor is common of any other career traits of path when it comes to leadership and representation.
I am alarmed because this same level of thinking is exactly what has made the efforts on breaking the glass ceiling very difficult to aid our women to unleash their potentials. To the labeling borne out of your line of thought, they must act and exhibit leadership traits founded and defined on masculinity. They need a certain shaping and grooming, they must be assessed in a certain manner etc just as you have done to the list in your statement.
Prof Gyampo, my Larteh snr brother, this your position does not sit well for any nation that is finding its feet to be a great nation.
Let's support a national definition of Ghana's leadership philosophy and style which will shape our vision and aspirations to become a yardstick for everyone wanting to lead in any capacity than creating stereotypes
Scofray Nana Yaw Yeboah
Transformational Coach | Certified Professional Trainer | Lead facilitator for Zoweh Global Consult