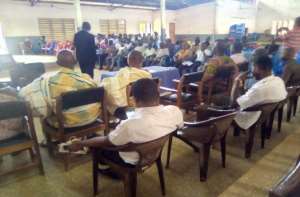 Dormaa East District Assembly in the Bono Region has on Thursday, August 15, 2019 held its Mid-Year Performance Review in a Town Hall Meeting at Asuotiano near the District Capital.
The meeting which was organized in partnership with Center for Democratic Development (CDD Ghana) and funding support from Open Society for Initiative for West Africa (OSIWA) was to afford public service providers of the Assembly render accounts of their stewardship and allow for inputs and feedback to ensure deepening democracy and assist development. It also itemized activities of the assembly and its sources of funding and financial strength.
Present were traditional authorities, religious leaders, assembly members and, public officers, assembly members and other associations.
The representative of CDD Ghana, Mr. Amos Baffuor-Mensah in a foreword said town hall meetings are meant to demand transparency, participation, and feedback in the local government planning and budgeting process through citizens participation, therefore, it must be taken seriously by the people.
The District Planning Officer, Madam Antonia Ayamga who did a presentation on the Mid-Year Performance Review reports, emphasized that the government through collaborations with foreign donor partners such as EU, World Bank and DIFD, is organizing learning opportunities to vulnerable and marginalized community members to empower their social and economic inclusion in the society.
She said currently, some persons engaged in agriculture, are pursuing training in organic farm methods to become mentor trainers whiles some would be improving on their assets which include both productive assets such as livestock, tools or household enterprise and human capital under a Ghana Productive Safety Net Projects.
She explained no new project has been awarded this year due to the intention to complete outstanding projects so that no old project is left uncompleted. Areas she touched on in her representation covered administration, agric, health, education, revenue and sanitation.
The District Chief Executive of Dormaa East, Hon. Emmanuel Kofi Agyeman, on few responses was happy to announce the approval of two factories which has begun in the district under the 1D1F initiative by YANTAB and ADF farms. He was very optimistic they will go a long way to better lives and economic development of the district.
He also announced and was thankful to government for the receipt of farm equipment from the Ministry of Agriculture to commence a district agricultural mechanization center which would boost Agribusiness in the area.
The DCE commended communities and towns like Asuotiano who are doing very well with the payment of revenue and encourage them to continue especially in the area of property tax to enable the Assembly better their developmental agenda.
The Hon. expressed delight for the turnout of the public and mentioned that the town hall meeting was to enable them productively participate in matters and developments affecting them.
He added that in order to deepen democracy, ensure transparency and accountability, the people should feel free to visit the assembly with their suggestions and worries on developmental projects ongoing in their communities whenever necessary
The District Director of Education Rev. Joseph Amoa Mensah called on community members and parents to collaborate with the education service to raise responsible and well educated future leaders for the society.
Participants and Nananom ceased the opportunity to raise concerns on some issues affecting them such as sanitation problems, haphazard plot allocation and uncompleted left off project by previous governments, stray animals and loitering of school children at ungodly hours.