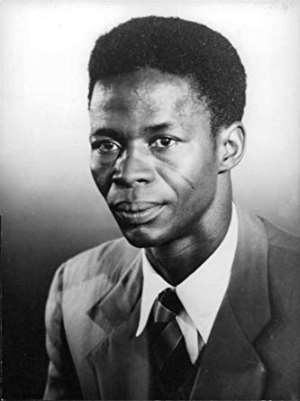 Lawrence Rosario Abavana
My attention has been drawn to a feature article written by one Kwame Okoampa-Ahoofe jr, PhD and published by modernghana.com (see 'Abavana was a Dictator's Apprentice' modernghana.com 29 June, 2019 in response to an article I authored and published on modernghana.com and Ghanaweb.com on 28 June 2019, see "UDS should be renamed after Lawrence Rosario Abavana not C. K. Tedam")
Folks reading through the feature article one could only come to one of two inevitable conclusions that the feature article is nothing but a cacophonous blabbering of an ill-informed bigot or member of the Akyem Revisionist mafia group, a group whose hatred for our former president Osagyefo Dr Kwame Nkrumah knows no boundary, but unfortunately for them, Osagyefo Dr Kwame Nkrumah is a global stalwart in Ghana, Africa and the world. So no amount of hatred or crying from Kwame Okoampa-Ahoofe jr, PhD and his Akyem compatriots can diminish Kwame Nkrumah's stature in Ghana, Africa and the world.
To start with, is it not better to be an 'Apprentice' of a man who was voted by BBC Africa Service as the African Man of the Millennium as in the case of L.R. Abavana according to Kwame Okoampa-Ahoofe, than C.K. Tedam who was an "Apprentice" of bomb throwers and CIA agents.
Now to respond to the factual inaccuracies raised by Kwame Okoampa-Ahoofe jr, PhD, Firstly he suggested that Mr Abavana already has several public schools in Navrongo and its environs named after him, even though Mr Abavana deserves to have several public schools named after him, its not true that many public schools in Navrongo and its environs are named after Mr Abavana, not even one public school in Navrongo is named after Mr Abavana, but some halls/ houses of residence in some public schools in Navrongo have been named after Mr Abavana. For example, a house of residence in Navrongo Senior High School is named after Mr Abavana.
Let me hasten not to add that, the house of residence was not just named after him because he served his political party well, as in the case of C.K. Tedam, its because Mr Abavana who was then the Northern Ghana Regional Commissioner lobbied Osagyefo Kwame Nkrumah in 1960 to establish this school in his home town (one of the first secondary schools in Northern Ghana), the school was initially called the President College and later Navrongo College (Navasco). This school, Navrongo school now called Navrongo Senior High School has produced many prominent people such as Air Marshal Oje, Brigadier Issa Wuni, Brigadier Kotia,Hon Kwabena Donkor, Martin A.B.K. Amidu, Hon Haruna Iddrisu, Hon Cletus Avoka, Hon Kwabena Donkor, Hon Ambrose Dery and so on.
Apart from lobbying Osagyefo Kwame Nkrumah to establish Navrongo S.H.S which has churn out great intellectuals, Academics, Lawyers, Doctors and Politicians.
Mr Abavana who was trained at Achimota College as a Teacher in 1938, and appointed District teacher on 1st January 1943, started his professional teaching career in the Native Authority School in Chiana, he taught in that school until 1945 when he was transferred to Zourungu School, In 1947 L. R. Abavana was transferred back to Chiana as Acting Principal, the same year C. K. Tedam who had just completed his Teacher Cert 'B' course in Tamale Teacher Training College was posted to Chiana to teach under L. R. Abavana (Principal Teacher) thus, he was affectionately called Teacher because he taught and mentored a lot of great men including C.K.Tedam who taught under him at Chiana.
So if there is anybody between C.K. Tedam and L.R. Abavana who has contributed to the moral, cultural and intellectual development of the Upper East Region and their local areas Mr Abavana should be that person.
But for the Mahama led NDC administration Community Day School initiative, which gave Paga C.K. Tedam's hometown and the district capital of the Kassena Nankena West District a government Secondary School, Paga the District capital would have still been without a government secondary school. So if there is career politician who has not contributed to the moral, cultural development of his Region and local area it is C.K.Tedam, because he has served as an MP and a minister yet he could not lobby his NPP governments to build one educational institution in his Region or local area.
Once again, Kwame Okoampa-Ahoofe jr, PhD showed how weak his thoughts are and why well meaning academics should question how he acquired his PhD, by suggesting that Mr Abavana did not distinguish himself as a cabinet appointee, thus "he kept allowing himself to be indiscriminately rampantly recycled among a handful of cabinet portfolios in the patently unimpressive mode of the game of musical chairs" because it will be outlandish for any academic to suggest that Mr Abavana who as a Minister for information and Broadcasting led the Ghanaian delegation to the Commonwealth African Countries Conference and as a Minister for Health led the Ghanaian delegation to the Health,Sanitation and Nutrition Conference held in Alexandria,UAR and another delegation to the World Health Assembly at Geneva has not distinguished himself as a cabinet minister, serious academics would have said he has distinguished himself so creditable that the first President of Ghana could entrust a Ghanaian delegation into his care to represent him and Ghana at international conferences.
Kwame Okoampa-Ahoofe jr, PhD further argues that C.K. Tedam "appears to have been more principled than Mr Abavana" vis a vis Mr Abavana who according Ex president Kufour "lived not only for the people of Navrongo but for the entire country, rose through the public service as a true Ghanaian social and a great political leader who has distinguished himself in the socio-economic development of the country", unlike C.K. Tedam who lived his entire adult life serving the NPP especially the Mafia group in the NPP, thus he strategically got Afoko the first ever NPP Chairman from the North to be suspended as a National Chairman to please Nana Addo and his Akyem mafia group and establish himself as the leader of the northern caucus of the NPP, So C.K. Tedam only achievement which has been corroborated by Kwame Okoampa-Ahoofe jr,PhD and Presiednt Nana Addo is the allege uniting of the NPP in the wake of "Afoko Gang Coup Detat' in the NPP.
Kwame Okoampa-Ahoofe jr, PhD ,also argues that the money used to build the University includes all Ghanaian taxpayer's money and not exclusive capital resources of the people of Navrongo. As I said earlier Kwame's students will be very disappointed in him after reading his feature article, in my earlier article which Kwame responded to, I posited that if president Nana Addo thinks C.K.Tedam has distinguished himself so creditably and must be immortalized by renaming a university after him, then he should choose a University anywhere in the country maybe in the Eastern Region but if the president thinks hero's must be immortalize in the home Regions or hometown, than C.K. Tedam should not be immortalized by renaming UDS –Navrongo Campus after him because he has spent his adult life serving the NPP, so the NPP should build a University in his hometown and name it after him, and rather rename UDS – Navrongo Campus after L.R. Abavana who has distinguished himself locally, National and at the world level, and has contributed significantly to moral, cultural and intellectual development of his home town, Region and country as a whole.
As a matter of fact, Kwame Okoampa-Ahoofe jr PhD, if your are truly an Academic I would advise you to take your research lessons serious, because history is a set of facts in the past and not conjectures or individual thoughts, or if you cannot take research lessons again, I advice you to stay within the confines of English Language, you might improve your learning, understanding and delivery in English instead of venturing into the remits of History which in all intent and purpose you lack knowledge in.
L.R. Abavana as a teacher, politician and statesman has distinguished himself creditable that if an opportunity is given to C.K. Tedam to choose between himself and L.R. Abavana who a University should be named or renamed after C.K. Tedam will gladly opt for it to be renamed or named after L.R. Abavana his mentor in the teaching profession and politics.
By: Casper Sunday Kampoli
0205908414