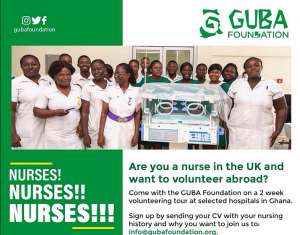 UK Nurses to volunteer at selected hospitals in Ghana
The GUBA Foundation is proud to present a two-week volunteering program for UK Nurses at selected hospitals in Ghana. This promises to be an unforgettable opportunity and the experience of a lifetime for nurses based in the United Kingdom who have the dream or desire to volunteer in Africa.
In the spirit of 2019 having been declared the 'Year of Return' by Ghana's President Nana Akufo-Addo to launch a major marketing campaign targeting the Diaspora market, the GUBA Foundation will be shifting part of its focus towards work in Ghana; and this delightful volunteering opportunity forms part of these efforts.
From its inception, the GUBA Foundation has consistently engaged in a variety of charitable ventures aimed at supporting the Ghanaian population (for example, the Foundation has donated uniforms and various hospital equipment including incubator to hospitals and other healthcare settings in Ghana to help enhance the standards of care). It therefore appeared appropriate to trigger a movement to bring back skills to the Ghanaian healthcare setting, and provide an environment where edifying discussion can be had and clinical experience can be shared.
The GUBA Foundation volunteering program appears to be the vehicle by which the GUBA Foundation can power this. The two-week volunteering program will be an opportunity for nurses resident in the UK to give back to Ghana by sharing their skills with communities in Ghana.
Speaking about the volunteering program which is due to take place in November 2019, Dentaa Amoateng MBE (Founder of GUBA Enterprise & the GUBA Foundation) said "As part of Ghana's Year of Return, this program is a great idea for our nurses here in the UK to get working experience in Ghana and to discover potential working opportunities to tap into. By offering this opportunity, we at the GUBA Foundation are keen to engage with nurses who want to spend some time in Ghanaian hospitals and share the skills they have learned in the UK. We hope this volunteering program creates an atmosphere where there can be an exchange of knowledge between Ghanaian nurses and UK nurses and (in the spirit of the Year of Return) create a platform where some nurses will want to return to Ghana to make a longer-term working contribution!"
Serlom Buatsi is a 27 year old Breast Specialist Nurse who gave testimony regarding a volunteering experience to Ghana she engaged in which had been organised by the GUBA Foundation in 2018. "Last year the GUBA Foundation arranged for me to volunteer as a nurse in Ghana. It has been one of the best experiences, a real eye-opener and I've learnt so much! It was also a very rewarding feeling that I was able to give back! I definitely want to go again this year!"
To secure a place on this incredible venture, potential volunteers must sign up by sending a CV detailing their nursing history, and also an accompanying note communicating why they want to join, to the GUBA Foundation team via email using the address [email protected] . Applications are still being accepted, with the two-week nurse volunteering program scheduled to take place in Ghana in November 2019.
About GUBA Foundation
The GUBA Foundation is a registered charity in Ghana and the United Kingdom that undertakes charitable initiatives to address some of the most entrenched health and social care issues affecting the Ghanaian community in the UK and Ghana.
Following the success of the Ghana UK Based Achievement (GUBA) Awards, the GUBA Foundation was created to address health, disability, education and poverty concerns. The Foundation works to provide awareness, support and guidance to families, create strong connections encouraging community cohesion, and ensure that the community have access to the services that they require.
The foundation aims to tackle these issues by running different projects to raise funds and awareness. In the past, the GUBA Foundation have embarked on projects to create awareness and aid individuals and families living with autism in the United Kingdom and Ghana. Through seminars and workshops led by experts, as well as kind donations, we have been able to bridge the gap between families living autism and healthcare services, and close the gap on infant mortality in Ghana. The GUBA Foundation remains focused on creating equality of opportunities for Africans, enhancing knowledge and awareness of issues that affect the community and focusing on the resolution of African social challenges.
Amma Owusu-Afriyie, Project Manager of GUBA Foundation is available for interviews and comment. Please email [email protected] for further information and arrangements.
To learn more about the GUBA Foundation, visit www.gubafoundation.org .