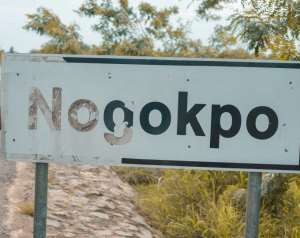 The Operations Commander in charge of Metro Guards in the Sekondi-Takoradi Metropolitan Assembly, Chief Inspector Mawuli Ahiakpor, has called on members of the public to desist from making false defamatory statements about public officers on radio.
Mr. Ahiakpor who drove to the premises of Takoradi-based Connect FM on Thursday, August 8, to respond to allegations of sexual harassment of an unnamed female intern made against him by an anonymous male caller on the station's morning show, denied involvement in the act and dared the caller to provide evidence relating to the said incident.
In an interview with ModernGhana Western Regional Correspondent, Lord Kweku Sekyi, Mr. Ahiakpor denied demanding sex from would-be interns as the caller had alleged and threatened to prove his innocence by summoning his accuser to the popular Ewe Deity, Nogokpo.
According to CI. Ahiakpor, his swift response to the allegations was necessitated by several phone calls and text messages he received during the time the live show was being broadcast.
"I was furious because I still don't know who the accuser is or the young lady I had been accused of pestering for sex. I am a happily married man and it is fair to clear my name before it destroys my home and the position I hold at the metro assembly."
ModernGhana can confirm that there was an emergency meeting held at the STMA Sub-metro office in Sekondi after several allegations of misconduct were made against Metro Guards on the popular breakfast show hosted by veteran broadcaster, Nhyiraba Paa Kwesi Simpson.
NEW TWIST: ACCUSER FAILS TO SHOW UP
A meeting arranged by producers of the show to have both parties 'face to face' at the radio station on Friday August 9, was boycotted at the last minute by the accuser who according to Mr. Simpson, called privately to pull out claiming he had been advised to rather take the matter to court.