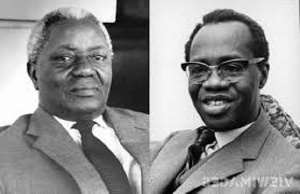 Aristotle had said "you will never do anything in the world without courage. It is the greatest quality of the mind next to honor." Great leaders have come and gone, but their legacies live on because of their courage and sacrifice to mankind. And I am talking about leaders like Sun Yat-sen, the first President of China, referred to as the "Father of the Nation"; Lenin of Russia, Dr. Kwame Nkrumah, Nelson Mandela of South Africa, etc. In America, the First Continental Congress that met in Pennsylvania in 1774 to lay down the foundation of the United States of America was attended by 56 delegates. But the true Founding Fathers of America, who finally led the country to independence from the British Monarch on 4 July 1776 were only seven people, namely; George Washington (1st President), John Adams (2nd President), Thomas Jefferson (3rd President), James Madison (4th President), Benjamin Franklin, Alexander Hamilton, and John Jay.
While Americans fought wars to gain independence, Gold Coast (now Ghana) under Kwame Nkrumah used nonviolent resistance to get her independence. The reason being that Gold Coast did not have the military might to fight their colonial masters. The Ashanti Kingdom waged several unsuccessful wars against the British including the Battle of Nsamankow in 1824 for sovereignty in which the British remained the victors. In 1868, the Fanti chiefs formed the Fanti Confederation and in 1871 created its own constitution called the Mankessim Constitution. The British reprimanded them and abolish the confederation in 1874. Then in 1897, the intellectuals formed the Aborigines Rights Protection Society to protect the land tenure. Aborigines Rights Protection Society leaders were keenly aware of their membership in the Negro race and were desirous to maintain integrity. They identified themselves with problems affecting the African continent as a whole and how the whole world recognized them. But ARPS fell because Governor Guggisberg Constitution in 1927 tried including the intelligentsia and the Chiefs to the Legislative Council. Sir Nana Ofori Atta, Okyenhene of Kibi, was a member of the Legislative Council. Sir Nana Ofori Atta criticism of the colonial state and his forays into petition politics were undoubtedly moderate and comfortingly for a succession of Governors, vehemently opposed to radical demand. The ARPS could therefore not lay any foundation for Gold Coast self-rule.
It would be recalled that on 20 August 1943, Okyenhene, Sir Nana Ofori Atta, died and a few months to his final funeral rites his personal carved stool was blackened with blood and paraded on the streets of Kibi. On 29 February 1944, Odikro of Apedwa, Nana Akyea Mensah was reported to have been horribly murdered. On 9 July 1944, police investigated led to the arrest of 8 stool sons of Kibi accused of ritual murder of the Apedwa Chief. They were defended in a notoriously long trial by lawyers led by Dr. J.B. Danquah, Nii Olluennu, Edward Akuffo-Addo, Sarkordee Addo, Heward Mills, and Frans Dove. The trial traveled through to July 1947 and nearly caused the resignation of then-Governor Alan Burns. The bitterness of Dr. J. B. Danquah's family over the trial and the conviction of his relatives as murderers resulted in his instituting an uncompromising political campaign against the Governor was the precursor of UGCC.
But prior to the Kibi murder arrest, Dr. J. B. had on 6 March 1944 during his speech in marking the centenary of the infamous Bond of 1844 said "I am sometimes much surprised when I see many of my countrymen terrified by the use of that what 'Self-government'. They are terrified of it because they think it means the desire to break away from the British Empire and become independent of the British. If it comes to that, if it comes to a decision to break away from the British connection, I would be the last person to express such a terrific wish" The reason behind was that J.B. Danquah and his brother, Sir Nana Ofori Atta had enjoyed their membership at the Legislative Council constituted by Guggisberg and Burns Constitutions.
The formation of the UGCC was motivated in part by a determination of what the Colonial Office described as a bitter "group of politicians, led by Dr. J.B. Danquah, William Ofori Atta, and Akufo-Addo" to seek revenge "over the hanging of the Kibi murderers". They met with George "Paa" Grant in Saltpond on 29 August 1947 and together with Arko Adjei and Emmanuel Obetsebi-Lamptey, to form United Gold Coast Convention. And upon the advice of Arko Adjei, Kwame Nkrumah was invited to be the Secretary-General. The 26th January 1948 boycott of AWAM and 28th February 1948 Accra riot led to the arrest of the Big-6. The Watson Commission blamed Kwame Nkrumah when an unsigned Communist Party card was found on him and he was also said to have addressed the ex-servicemen with J.B. Danquah. While J. B. Danquah accepted Coussey Committee recommendation, Kwame Nkrumah rejected it and that was the beginning of a rivalry between the two. Nkrumah argued that the Coussey Report excluded workers plights; workers he meant, farmers, miners, petty traders and trades union movement. Kwame Nkrumah established Accra Evening News to propagate messages against colonial rule. But his own UGCC members disliked that and brought libel suits against him. When their libel suit against Kwame Nkrumah failed, on 6 September 1948 Nkrumah was removed as UGCC member. Nkrumah first formed Youth Study Group and later Committee on Youth Organisation as Komla Gbedemah as chairman. Then on 12 June 1949, Nkrumah created Convention People's Party (CPP). Kwame Nkrumah was later imprisoned and while in jail and without any campaign, on 8 February 1951 CPP won 34 seats out of 38 in the Legislative Assembly election. Kwame Nkrumah himself won Accra Central seat with 22,780 of the 23,122 votes cast. He was immediately released and appointed the Leader of Government Business before becoming the country's first Prime Minister the following year after a constitutional amendment.
Dr. Danquah was elected to the Legislative Assembly in 1951, but that was the municipal cum electoral college and not a popular vote. On 10 June 1953, Dr. Nkrumah tabled a motion in the Assembly on constitutional reform, in which he demanded "self-government". The motion led to a general election on 15 June 1954. Out of the 104 parliamentary seats, the CPP garnered 72 seats, and Ghana Congress Party formed in May 1952 and led by Dr. K. A. Busia won only 1 seat. Even Dr. J.B. Danquah lost his Central Akyem Abuakwa Constituency seat. The June 1954 general election humiliation led to the collapse of Ghana Congress Party, same as UGCC. In 1956 National Liberation Movement (NLM) was formed by Asante Chief Linguist Bafour Osei Akoto in Ashanti Region. NLM actual mission was to fight the CPP government for using cocoa farmers money to develop the coastal regions. Dr. Busia, though not a cocoa farmer, used his intelligent to wallow among cocoa farmers and became their leader. He connived with Northern People's Party (NPP) and Togoland Congress to oppose Dr. Kwame Nkrumah CPP.
In making it difficult to convince the colonial masters Gold Coast was ready for self-rule, the leader of the opposition, Dr. Busia and Modesto Apaloo, walked out of the Assembly when the Motion on select committee examine the possibility of the federal government was seconded. Their disagreement was because the committee comprised CPP parliamentarian. On 14 March 1956, delegates of parliamentarians visited Kyebi, Nana Ofori Atta II and disgruntled Dr. J.B. Danquah now told them that "party politics is an alien political form which" had "created civil strife and violent dissension between father and son". They threatened that if the British did not side with them, they the Akyem Abuakwa would withdraw from Gold Coast "as a sovereign and independent state with the only rival of the Asante country". Dr. Danquah had also specifically stated that "the people of Akyem are not subjects to the laws of Gold Coast"
Dr. Busia had referred CPP supporters in Asante as "those who belong to no family or clan, those who are strangers, not properly trained to appreciate the value of the true and noble Akan". To resolve the impasse between CPP and the opposition, the British sent Sir Frederick Bourne to Kumasi, but Dr. Busia refused to meet him. Sir Frederick Bourne secured passage of Bill where the small chiefs could appeal to the Governor of the Council instead of Asanteman Council, but NLM considered the Bill as a direct attack on traditions and usages. Sir Bourne also recommended that the Gold Coast was too small to be a federal state. But in April 1956 CPP issued a White Paper of its constitutional proposal, the opposition boycotted the proceedings.
In the round-up to Gold Coast independence Trans-Volta (now Volta Region) had the plebiscite to decide if they wanted to join Gold Coast. The majority of them agreed to unite. However, a close friend of Dr. Danquah and Dr. Busia, and also a founding father of Togoland Congress called S.G. Antor, opposed the idea. After the independence, S.G. Antor and opposition did so many things for the country to be ungovernable. Dr. Busia persuaded Dr. J.B. Danquah, Emmanuel Obetsebi Lamptey, and other defunct UGCC and Ghana Congress Party to join him. Their plan was to boycott all negotiations. In sabotaging Gold Coast independence, they rather demanded federalism. This led to the British government to succumb to the opposition demand and called for a plebiscite in July 1956 to decide whether people wanted a "unitary government" or " federal form. Prior to the election, Dr. Busia had written to the Governor saying "in accordance with the constitutional practice in the UK, the NLM, and his allies will expect Your Excellency Leader to call Dr. K.A. Busia, their Parliamentary Leader, to form a Government should they win more than 52 seats at the election". Unfortunately, CPP won massively, leaving Dr. Busia to come out with another theory that the constitution would be adopted if "favoured by a majority of people of every region into which the Gold Coast" was divided.
Then again, when the parliament was officially opened after the general election, NLM and NPP absented themselves in deliberation on the motion of independence. In another time when the British Governor introduced a bill declaring that the Gold Coast was going to be a sovereign state, Dr. Busia and the opposition criticized that the proposal was premature. On 20 November 1956, Br Busia and NPP sent a resolution to the Secretary for Colonies in London demanding separate independence for Asante and Northern Territories. When all settled that Gold Coast was going to be declared an independent state, Dr. Busia traveled to London to plead with the British Government to deny granting independence to Gold Coast. He said, "because the country is not ready for parliamentary democracy". He said "we still need you in the Gold Coast. Your experiment there (Gold Coast) is not complete. Sometimes I wonder why you seem such in a hurry to wash your hands off us"
In the end, H.E. Osagyefo Dr. Kwame Nkrumah led Ghana to independence on the fateful day of 6th March 1957. And at the Polo Grounds Kwame Nkrumah declared that "At long last, the battle has ended! And thus, Ghana, your beloved country is free forever" Dr. Kwame Nkrumah distinguished himself among his contemporaries. He once said, "action without thought is empty, thought without action is blind". His ideology for pan-Africanism, Africa liberation, and self-governance earned him an enviable reputation on the globe. His achievements, social policies, and style of leadership were impeccable. He is fondly remembered for the improved roads, schools, hospitals, factories, the Akosombo Dam, the Tema Harbour, and the economic stability, etc. His stupendous legacy adjudged him Africa's greatest "Man of the Millennium" in 2000. A man the African Union 13th Ordinary Summit in Libya unanimously agreed to celebrate his centenary birthday and has his name marked on the calendar of Special Events in AU.
The truth must be told. That. the regime established by 1992 Constitution is consonant with the idea that a change of government does not necessarily involve a change in predecessors efforts. There may be a succession of different governments, but state and regime usually remain constant by virtue of the fact that the different governments exercise power within the framework of the established regime and without disturbing the fundament structure of the state. This is clearly applicable to Ghana's 4th Republic in which there is a firm tradition of constitutional rule and provision is made for the peaceful succession of government. A change in government does not in any way signify a change in the constitutional order. Therefore for a successor to overturn a predecessor enacted acts are questionable. For President Nana Akufo-Addo to overturn H.E. Ex-Presidents Prof. Atta Mills/John Dramani Mahama's enacted legislature to observe 21 September as Ghana's Founder's Day, is like US Supreme Court ruling in 1883 that the Civil Rights act of 1875, which forbade discrimination in hotels, trains, and other public spaces, was unconstitutional, or President Donald Trump threat to overturn Obamacare.
Drawing comparison between America and Ghana, it's crystal clear that although our predecessors, like 56 delegates to First Continental Congress in America, no political leader was able to lead Ghana to self-rule apart from Dr. Kwame Nkrumah CPP. Therefore, the Founder of modern-day Ghana is H.E. Osagyefo, Dr. Kwame Nkrumah.
President Akufo-Addo's government is so confused and out of track. They will very soon lead Ghana to a second HIPC because of their excessive borrowing. In less than 3 years they have borrowed closed to ghc90 billion and spent over ghc150 billion from revenues. They are supervising PDS fraudulent deal, spending $10 million to audit cocoa roads, spending $4.5 million on AfCON profligate expenditure, paying Ghc283 million judgement debt, increasing Ghana Cylinder Manufacturing Company allowances by 400%, allowed militants to undergo training at Presidency Annex (Osu Castle), cannot sack a presidential staffers caught on video over galamsey bribes, cannot punish perpetrators of Ayawaso West Wuogon by-elections violence, overseeing $12 million Oslo consulate deal, and many more. Instead of the President seeing to the plights of suffering Ghanaians, he is rather enacting acts to sanctify his late family members. President Nana Akufo-Addo NPP-led government has set precedent and opened a floodgate for the next non-NPP government to overturn any legislation passed during their tenure of office.
But remember, Kwame Nkrumah never dies! May God bless our homeland Ghana.
Signed,
Lewis Kwame Addo
Amsterdam
[email protected]