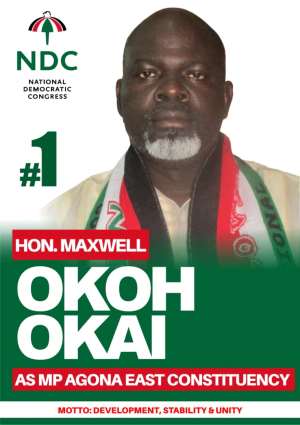 Allowing qualified persons to contest in the upcoming NDC Parliamentary primaries and any other election is very key as far as deepening democracy is concerned. That notwithstanding, all persons intending to contest in the election are expected to be trustworthy, decorum and integrity efficient to lead the party to the promised land.
Mr Okoh Okai, one of the Parliamentary aspirants of NDC in the Agona East constituency was disqualified by the vetting committee on the basis of forgery and using names of people he claimed had proposed and endorsed his nomination form without their knowledge.
I understand however that, Mr Okoh Okai and his supporters out of frustration and shame have started shouting and claiming to be treated unfairly and threatening court action against the NDC party and the vetting committee.
As precedents are very vital, necessary and can't be left out in the course of administering justice, I would by this piece like to draw the attention of Mr Okoh Okae and his team to a similar case few years ago in the Ave-Avenor constituency of the Volta region.
In 2011, in the Ave- Avenor constituency in the Volta region, a potential parliamentary candidate in the NDC by name Lawyer Djikunu the author of "The Last Hour" English book and four other members of his team which included a very hard working NDC member called Dahume were reported to the Akatsi police for forgery as in the case of Mr Okoh Okae. Subsequently the said names were dragged to court including lawyer Djikunu and they were slapped by the court the with charges of:
i. Conspiracy to commit crime
ii. Forgery of documents
iii. Possessing of forged documents and
iv. Uttering forged documents.
I recall, on that fateful day, March 28th, 2012, Lawyer Djikunu was soaked in sweat, had to lose his tie and eventually removed his coat after hearing the verdict of the court. Your guess is as good as mine about the end result.
My personal advice to Mr Okoh and his team is to accept the decision made by National and bring their supporters on board for a successful primaries because a criminal to fraudulently forge signatures of others for the purpose of outwitting a panel. The court verdict from the Akatsi case is however still there for their perusal if they so wish.
However, if they are still bent on testing the law, I wish them good luck but assure them of further humiliation. They would rather be creating a wildfire from a small one that should have gone off within the constituency for the whole country to know of his fraudulent activity. A word to a wise, they say is enough.
Thank you
Shadrach
Journalist Appiah
[email protected]